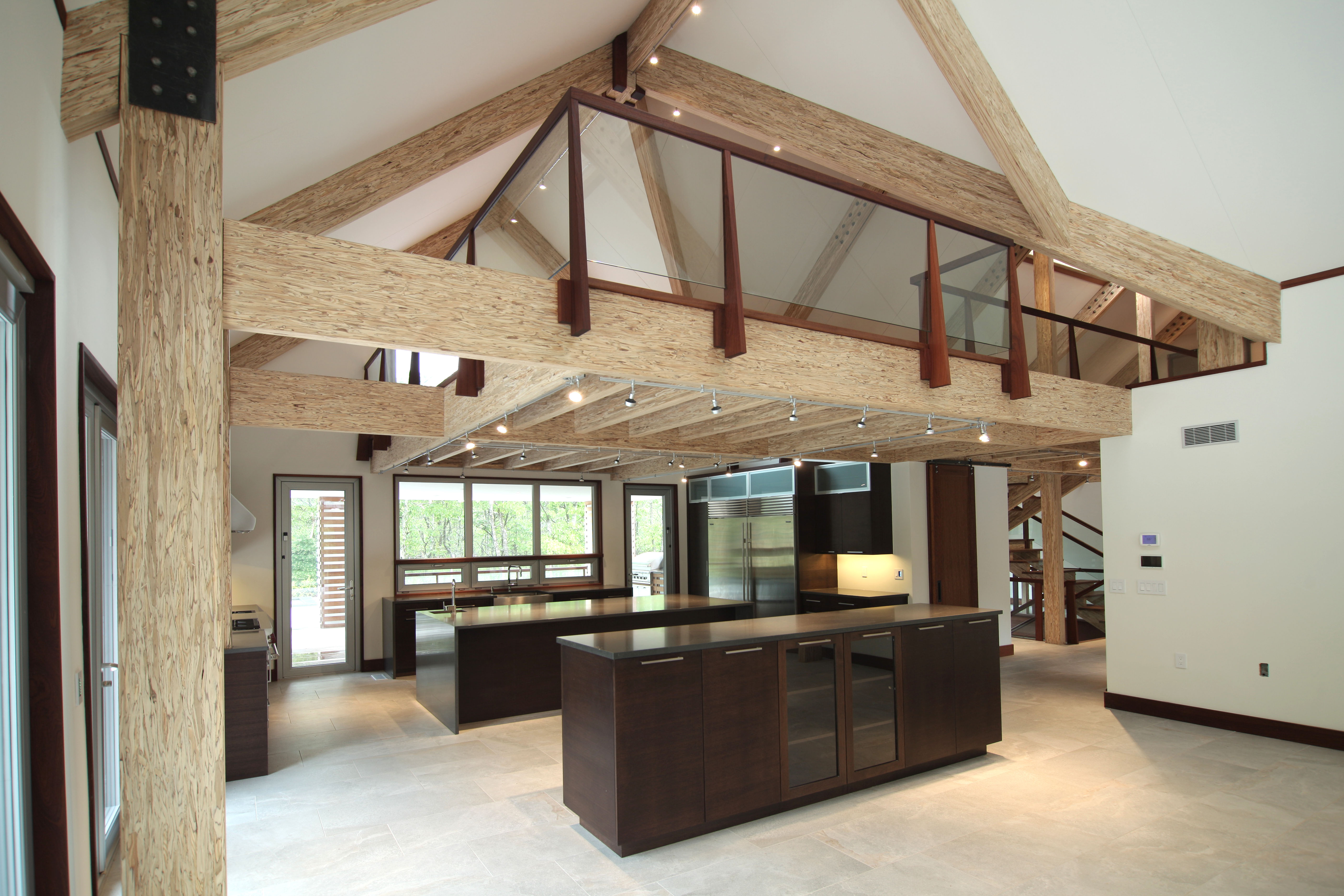 From welcoming great rooms to expansive window walls, home buyers continue to crave open floor plans flooded with light and views. For builders, engineered wood designed to span longer distances can make it easier and more efficient to meet these trends.
Beams, headers, and columns made from Trus Joist® Parallam® PSL open up a whole new world of design options for the interior of a home. Made with a patented microwave process that bonds together long, thin strands of wood, Parallam PSL is engineered to support heavy loads and span long distances.
Here are details to consider when educating your customers about parallel strand lumber and how it differs from other engineered wood beam options, including laminated veneer lumber (LVL).
Manufactured for Strength
Parallam PSL's parallel-strand construction provides a tremendous amount of strength beyond not only what dimensional lumber can provide, but also more than that of some laminated veneer lumber. This allows Parallam PSL to support heavy loads across long spans. Like other engineered wood products, Parallam PSL is manufactured to resist shrinking, twisting, and bowing.
Simplified Installation
Parallam PSL eliminates the need to pre-assemble individual plies, minimizing bolting and nailing required to create longer spans with other products, such as that required of LVL, thereby simplifying installation for your customers as well as your own sales team. Parallam PSL can also be cut to length on site and fastens with common hardware. Once builders get away from multi-ply products for a single-member product like Parallam PSL, it's hard to go back.
Ease of Handling
Due to Parallam PSL's high stiffness and wider cross section, it stays straighter on the forklift during maneuvering in the yard. 1 ¾ LVL tends to bend or droop more on the forklift, which can cause handling issues. Parallam PSL's longer lengths also may mean handling and cutting fewer pieces to fill an order.
Appealing Aesthetics
Parallam PSL's unique parallel-strand construction delivers a beautiful visual when left exposed in interior applications. It can be left as-is or easily sealed and stained on site for added drama and appeal.
Exterior Options
The benefits of Parallam PSL extend to the exterior with Parallam® Plus PSL, which has been pressure-treated with a preservative solution. Parallam Plus PSL is protected against termites and fungi, so it's ideal for exterior, above-grade applications such as deck beams. The treatment penetrates the entire beam, eliminating the need to field treat the beam.
Sustainability
Parallam PSL is built up from strands that can utilize the outer layers of peeled veneer from a log. That process will use approximately 12-15% more of the log than sawmilling or peeling full sheets of veneer. All wood involved in the Parallam PSL manufacturing process is certified under the SFI standard.
Weyerhaeuser Distribution is committed to delivering the reliable, consistent products you can rely on. Connect with your Weyerhaeuser representative today about engineered wood solutions available in your market.