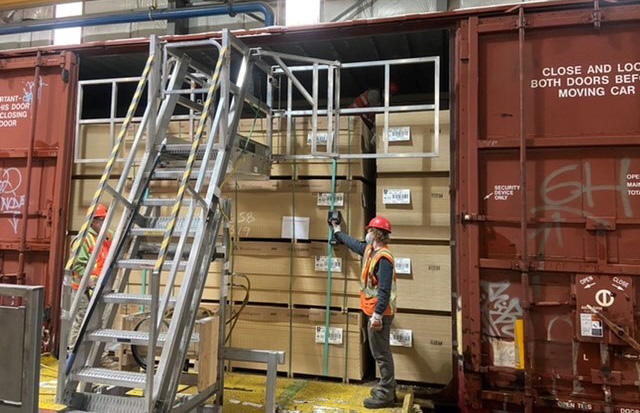 Jim Dughman and Cole Anderson (right) position the bands while Wes Flannery secures the stacks from inside the rail car.
Every day, the crew at our medium density fiberboard plant in Columbia Falls, Montana, loads finished products onto dozens of rail cars to ship to customers. Until recently, someone had to climb a ladder to crawl inside each loaded rail car to secure the MDF with dunnage, airbags and banding to protect them on their journey.
Thankfully, no one has ever fallen 12 feet from the top of a rail car to the ground, or into the four-foot gap between the edge of the loading dock and the car. But that doesn't mean it couldn't happen in the future.
"We knew we could come up with something safer than a ladder," says Wes Gadwa, maintenance and engineering manager. "But it had to be custom-designed to meet our specific needs. That led to a collaborative process involving a lot of people to refine a stable, caged gangway that can be moved with a forklift."
The team's creative thinking earned them a 2020 Wood Products Award for Most Impactful Innovation, and the first custom platform has now been in action for more than a year — with plans in the works to expand its use to other sites and applications.
"Not only did we solve the problem, we eliminated additional potential safety hazards at the same time," Wes says.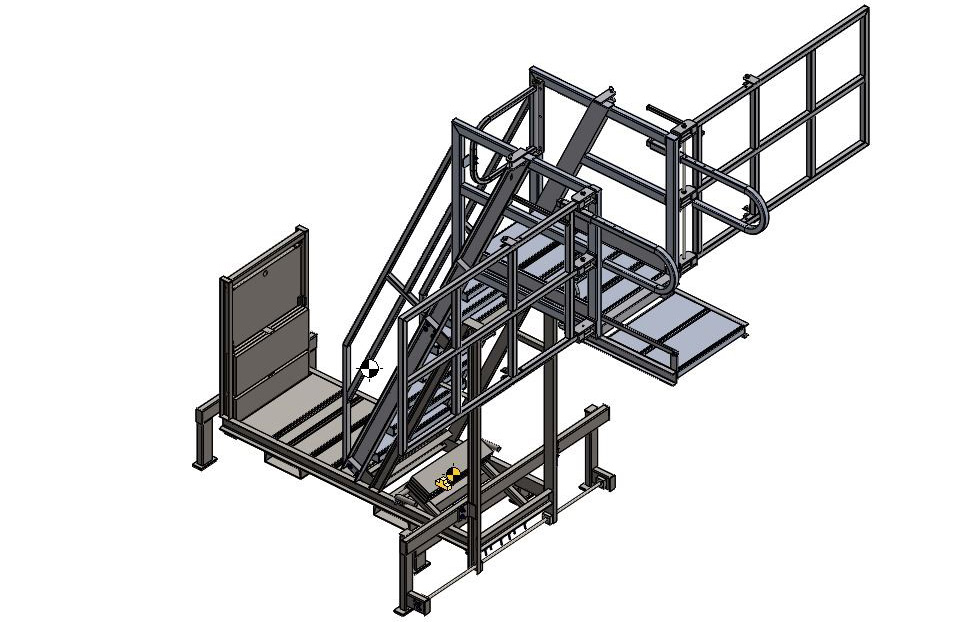 The completed CAD design for the custom Carbis system. "We're proud that we came up with such a unique solution, and it feels great to be recognized for everybody's hard work," Wes says.
ALL HANDS ON DECK
After a routine safety hazard hunt brought the possible fall hazard to their attention, Columbia Falls' engineer, safety managers, maintenance supervisors, millwrights, the loading dock crew and others came together to brainstorm potential solutions.
"We looked into all kinds of fall-prevention options, such as magnetic anchor points for a safety harness that would attach to the rail car lid," says Mike Butzlaff, shipping manager. "Eventually we realized what we needed was a mobile staircase with a platform, safety rails and a gangway that telescopes in and out."
The staircase and platform also had to be easy to use, more solid and durable than scaffolding, and compact enough to fit into the limited space available on the loading dock. Existing products made by a company called Carbis came close to meeting all these needs, but none was quite right.
"We took one of their products and cut away all the stuff we didn't need," Wes says. "Then I used CAD modeling to produce a proof of concept and brought it to Carbis. In November of 2020, our first custom platform was put into operation."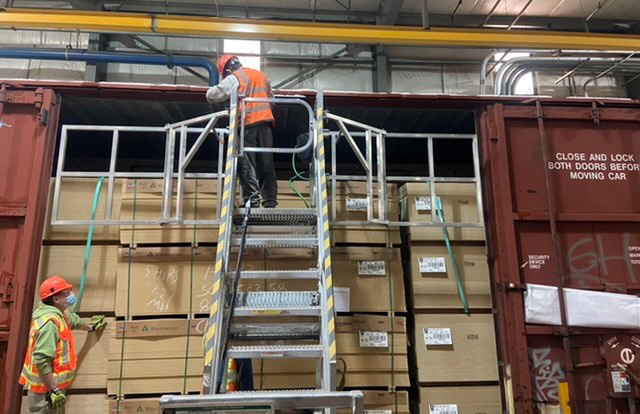 Jim Dughman, at left, and Wes Flannery use the custom system to strap and secure a stack of MDF inside a rail car.
REFINING A NEW ROUTINE
Once the dozen or so box cars enter the facility on a railroad spur, the loading dock crew uses forklifts to load the finished MDF products. Then the custom Carbis system is moved into place by a forklift, and crew members climb its stairs to the caged platform to reach the top of the box cars.
The crew members insert padding between the products, such as air bags and deadstock wood, and strap down the loads with the help of pneumatic tensioners. It used to be common to have pneumatic air lines for tools strung across the docks, but now they're plumbed right into the gangway to avoid trip hazards.
Once all the cars are packed, the custom Carbis system is moved out of the way and its "wings" are folded to take up less space.
The new platform is paired with a product called Dockzilla, a portable loading dock that fills the gap between the existing dock and the sides of the box cars.
"Together, these safety innovations are a silver bullet for fall hazards," Mike says.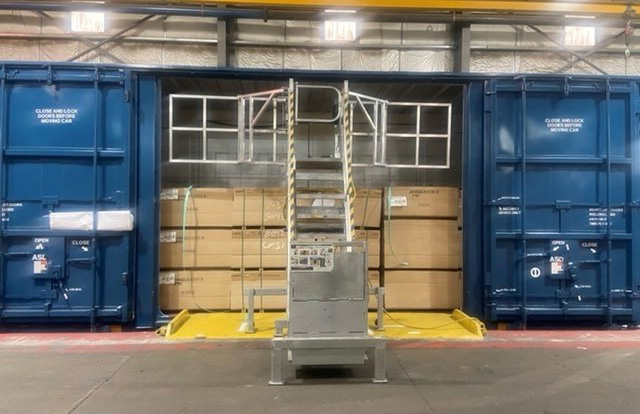 About nine months passed between the safety hazard hunt to approval of capital funds and delivery of the initial design. The team assembled, tested and modified the system to get it just right.
NOT BROKE? FIX IT ANYWAY
The old ladder system had been in use for more than 40 years, so it took some time for the crew to adjust to the new system.
"There was a little resistance," Wes says. "Some people said, 'If we never had an accident before, why change it?' So we had some discussions about being proactive and why we never want to take unnecessary risks. All it takes is a split second of inattention to cause an accident."
At first, getting the Carbis in place made the loading process slower, but the crew has learned a few tricks that take that process from 10 minutes down to about two.
"I have to give props to my team," Mike says. "This change introduced an extra step into the loading process, but it's a lot safer. They said, 'You know what, this is our new toy, and we're going to figure it out.' And now they've come up with the most efficient possible way to implement it."
The team is still working on some revisions to the system, but once a final design is in place, they'll commission additional platforms to use in other areas of the loading dock. And they plan to share the design will other facilities with their own railroad spurs.
"This isn't just a win for safety," Mike says. "It's improving the way we pack our goods so they don't shift and get damaged during rail transport, which can get rough at times. In turn, that ensures our customers receive our products in the best possible condition."