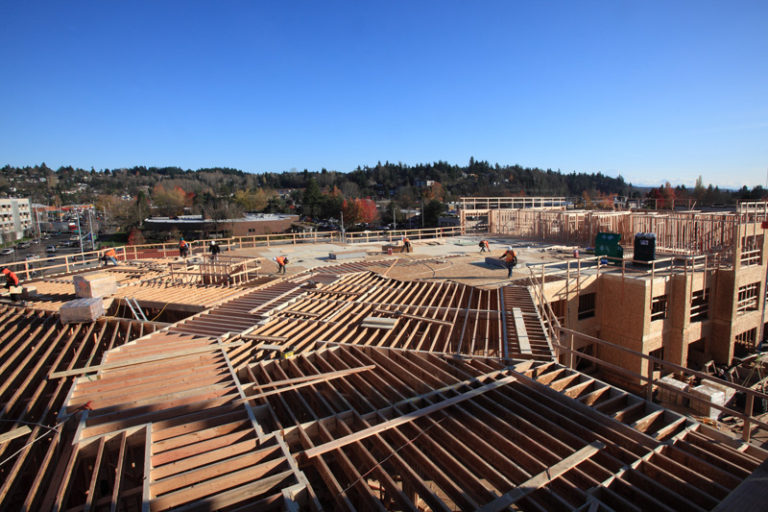 After a rocky start due to harsh winter weather, the housing market got back to it's slow-but-steady pace in late spring and early summer. It's a fitting scenario for a recovery that has seemed on a constant loop of two steps forward, one step back.
But, however slow, the movement is still upward and LBM dealers in most markets are feeling the positive effects.
Numbers released in mid July showed a 9.8% increase in housing starts in June, according to the NAHB Eye on Housing, reaching an annual pace of 1.174 million. Multifamily continued to lead the charge with single-family remaining flat, NAHB reported, noting that single-family starts were still 14.7% higher than June 2014. Now in August, the shifts continue, but in different ways: July housing starts reached their highest levels since December 2007, led by single-family this time with an increase of 12.8% over June. Residential building permits, however, fell 16.3%.
"Going forward, NAHB expects single-family construction starts to continue to record positive yet modest gains with growing homebuyer demand," NAHB said in its July report. "While the growth will be constrained by certain supply-side headwinds, most notably lack of building lots and access to labor in some markets, builders continue to express rising confidence, as reported in the NAHB/Wells Fargo Housing Market Index. We further expect multifamily growth to cool given the rising volume of units in the production pipeline."
The continued boom of the multifamily market is indicative of larger homeownership trends. In its latest State of the Nation's Housing report, released June 24, the Harvard Joint Center for Housing Studies (JCHS) noted that current homeownership rates—63.7% in the first quarter of 2015—are at their lowest levels since 1993. The decline is showing across nearly all age groups, the report says, but most notably among Generation X, which is still reeling from the housing bust and is contributing in some part to Gen Y's sluggishness; Gen Y, of course, has also been hindered by student loan debt and, until recently, an unforgiving job market.
"Despite the slowdown in 2014, the housing market recovery could regain steam in 2015 if continued employment growth helps to lift household incomes," reported JCHS. "But the lingering effects of the housing crash and Great Recession continue to impede the recovery. Millions of owners still have little or no equity in their homes and/or damaged credit histories, dampening demand in both the first-time buyer and trade-up markets. Although members of the millennial generation are starting to find their footing in the job market and helping to propel rental demand, many of these young adults are saddled with rent burdens and student loan payments that will slow their transition to homeownership."
And while some of the multifamily boom is reflective of the natural cycle for young twentysomethings, uncertainty lies in how quickly they'll be able to move on to single-family homes as they have in generations past, says Don Haid, corporate economist for Weyerhaeuser, and the lack of affordable housing stock is amplifying this challenge. Right now it's move-up buyers who have the best access to loans, and so that's what builders are building, Haid notes. As a result, there isn't much starter stock to go around.
Cautious Optimism
"It's a frustrating housing market, but it's still a growing one," Haid observes. "We've had to lower expectations, not so much this year, but all through this recovery, but it's still something that's growing 8-10% year over year."
Indeed, most of the other key indicators released in July continued to demonstrate growth—as well as variability. In June existing home sales grew 3.2% to levels not seen since February 2007, and the NAHB/Wells Fargo Housing Market Index hit 60 in July, the highest ranking since November 2005. Consumer confidence continues its upward movement, as does builder confidence. Supply of existing homes is tight.
At the same time, however, new-home sales slipped 6.8%, as reported July 24.
"Most of the dealers that I talk with are having really strong sales years, which is a welcome relief following the long struggle to rebuild sales after the recession," says Rick Schumacher, editor and publisher of LBM Journal. "The best way to describe their mindset is 'cautiously optimistic.' Most believe that the market will continue rising for at least the next couple of years, and I'd say that few of them expect the next downturn to match the severity of the last one."
Some familiar ongoing challenges linger, most notably a tight lending market. Though banks are loosening up a bit, credit remains tight for both home buyers and builders.
Labor is a significant obstacle, as many experienced contractors left the industry during the recession and never returned. Demand for installed sales is on the rise, and savvy dealers also will want to increase educational opportunities and product knowledge sessions to ensure customers know how to properly install the products they sell.
"Services are becoming a bigger part of dealers' business; dealers are reporting big jumps," says Craig Webb, editor of ProSales. But even dealers, Webb notes, are having to get creative and find new avenues for filling the labor ranks.
"Regardless of the circumstances, [dealers] find a way to adapt," Schumacher says. "They're working hard to identify fresh opportunities in their markets—whether that's carrying new brands or expanding into new product categories, offering installed sales services to homeowner and builder customers, or learning what it takes to serve entirely new markets. … Operating a lumberyard is not for the faint-of-heart. And in my opinion, the men and women who supply building materials are extremely sharp—or they wouldn't be here today."
For more housing information, check out Weyerhaeuser's latest Quarterly Financial Review.