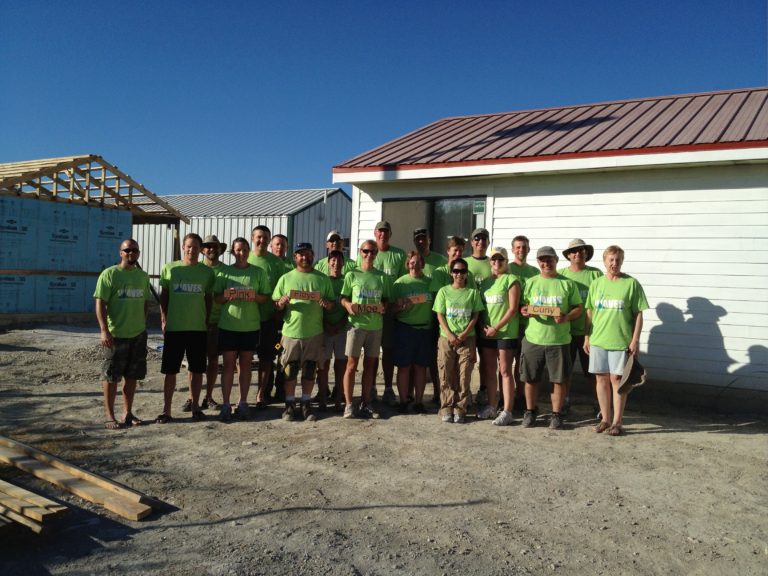 It's been over three years since the devastating earthquake near Port-au-Prince, Haiti on January 12th, 2010.  As the need for relief and rebuilding existed in Haiti prior to the earth quake, so too does much work remain to be done past this three year anniversary.  However, we take this opportunity to note the fulfillment of a $250,000 commitment Weyerhaeuser made soon after the earthquake to help in the recovery and rebuilding of Haiti.  Our pledge was not only to provide an immediate donation of building materials to help with temporary  housing, but also to explore alternatives that could introduce safer products for the long-term rebuilding of Haiti (press release).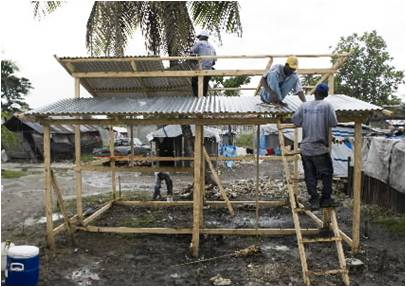 First Phase – Temporary Shelters
The first half of our commitment was fulfilled in the summer of 2010 through the donation of lumber and plywood to Habitat for Humanity and Techo. These materials aided in the construction of approximately 350 emergency or transitional shelters. This initial phase also provided support for the reforestation efforts of Plant with Purpose and the development of Caribbean wood construction design guidelines by the American Wood Council (AWC).
Second Phase – Permanent Housing
The second half of our commitment also involved partnering with a local organization – Nehemiah Vision Ministries (NVM). Weyerhaeuser provided the structural design, materials and volunteer labor to complete five permanent wood-framed homes. NVM provided the architectural input, logistics, and a local presence to ensure the appropriateness of the homes and their long-term utilization.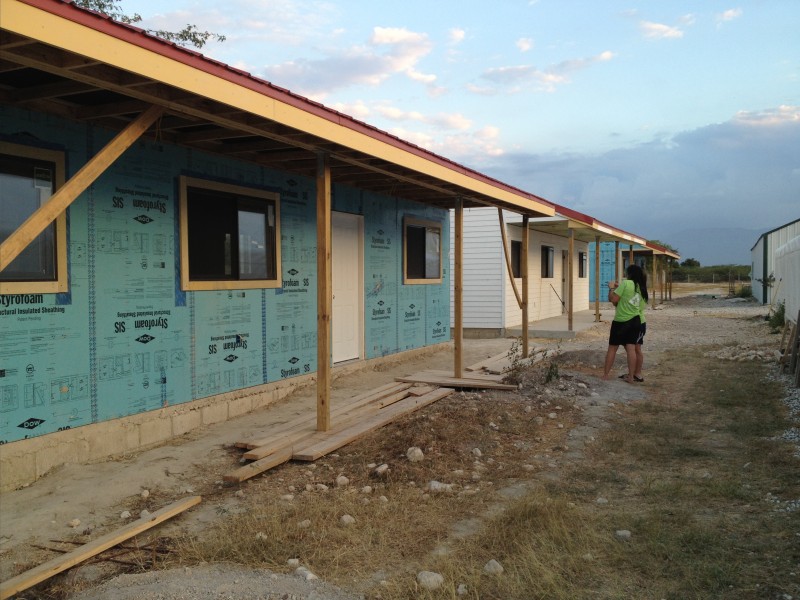 A total of fives homes were built. Two houses will be used by volunteer medical staff serving in the hospital being completed later this year.
Three Intern houses were designed to meet the needs of a typical Haitian family. At less than 500 SF in size, these homes have two small bedrooms and a central living area. A full length porch provides a shaded outdoor living area where cooking would also take place. These homes were also designed with large windows centered across from each other on either side of the building to allow natural cross ventilation.
Design Considerations
As permanent structures, these homes were designed to be suitable for the climate and culture of Haiti, resist 150 mph wind speeds and D2 seismic forces, and be resistant to termites and other natural predators. Unique features included the TJ Shear Brace, southern pine treated lumber, FrameGuard treated sheathing, HardiePlank siding, structural sheathing, and various connection strategies for uplift resistance.

The drawing above shows the maximum end zone wind pressures that the Intern House was designed to resist. These forces required that all components of the structure including the foundation, wall and roof framing, porch framing and exterior cladding be properly designed and connected to act as a complete system.
These photos illustrate some of the design components used to resist the extreme wind loads which must be considered for designing permanent housing solutions in Haiti.
Volunteer Teams
Twenty-nine Weyerhaeuser associates along with ten family members traveled to Haiti for one or more weeks at their own cost to build the homes. These volunteers completed two homes in October 2012 and the final three homes in February of 2013. Not only did these associates serve the people of Haiti in building these homes, but they got to connect personally with the community they served. This will have an impact for the long term – not only on the community of Chambrun, Haiti, but also in the lives of those who served. Check out this time lapse video of the final three homes being built.
Lessons Learned
These homes utilized materials which are not all readily available in Haiti and incorporated some construction techniques that are not familiar to most local construction workers. This approach allowed us to better understand the challenges associated with providing wood-framed housing in Haiti while at the same time providing permanent homes to assist with the long-term rebuilding efforts. Key observations include:
As expected, the availability of lumber is limited – especially treated and wide dimension products.
Critical structural components such shear braces, connection hardware and fasteners are also difficult to obtain.
Even supplementary materials suited for wood-framed buildings are not available locally (anchor bolts, electrical boxes, etc.).
There is a lack of construction knowledge and experience – a Haitian "carpenter" is likely only familiar with how to build wood formwork for poured concrete.
It is often difficult to get enough hardware installed to achieve the required uplift loads using traditional connectors. Alternate approaches such as the use of TimberLok or similar fasteners may simplify installation.
Opportunities exist for incremental improvements in the use of wood construction materials. Most notably the proper design and installation of wood floor and roof framing in conjunction with "confined masonry" and other concrete systems.
Much work needs to be done to support significant wood-framed construction in Haiti (design guidelines, construction skills development and supply chain infrastructure). However, this effort has demonstrated that wood-framed homes can be appropriately designed and constructed for the loads, environmental conditions and cultural needs of Haiti.
More Information
Check out the detailed plans for the staff houses and intern houses. A technical paper (Haiti Wood-Framed Housing Initiative) was presented at the 1st Annual Residential Building Design and Construction Conference sponsored by the PA Housing Research Center.