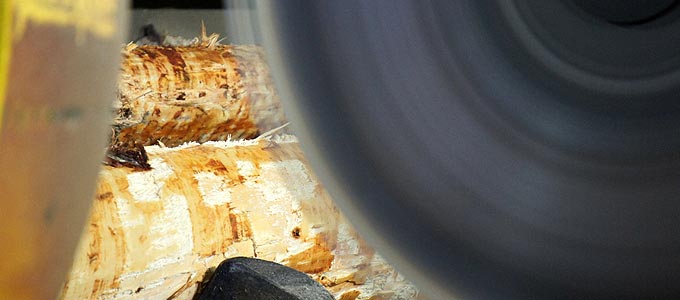 A few members of the marketing team took a trip to the Raymond lumber mill for a closer look at how our products are made.
Raymond is a beautiful, tiny town in Southwest Washington State. Of course as a major employer in a small town, many of the workers see each other as family and in some cases they actually are family.
A look across a small section of the yard. The buncher is picking up logs to be loaded for processing in the mill.
This machine strips the logs of their bark, which is then collected for burning to create steam used by the mill.
After debarking. Notice the "spiral cut" texture on the log.
Raymond mill manager Steve Arnold points out a few things to Kirstyn Ricker from the marketing team.
"It's like a big video game" was overheard in the control room. Note to self: do not challenge him to a game of Donkey Kong.
After computers have scanned the logs to determine what product can most efficiently be cut, the logs are sawed to form these familiar shapes.
A little bit of personality added to the window of this office.
A seemingly endless stream of boards is given a quality check under bright spotlights.
Safety is priority #1. Banners are on the machines, on the walls and even on the floor as seen here.
One of the final destinations is this large machine called a sorter. Boards are pulled across the top and when they cross over a bin corresponding to the correct size, they are dropped in.
From the sorter, they are bunched and prepared for wrapping. Once wrapped, they're off to our customers—including your local home improvement store—for purchase.
Our thanks to everyone at the Raymond mill and especially Janet, Steve and Tom for rolling out the red carpet for our steel toes.