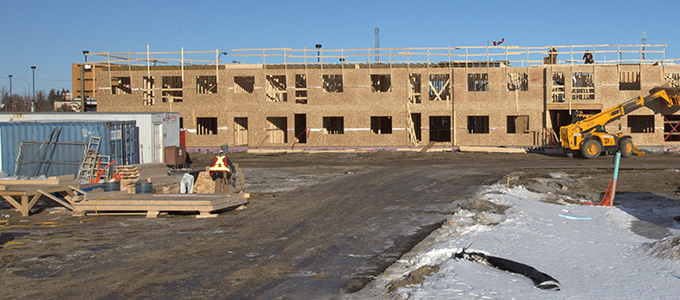 The Toronto Wood Solutions Fair recently gathered 800 attendees to learn about wood products and their use in construction. Presenters discussed innovative topics including a presentation by Weyerhaeuser engineer Steve McManus on "Meeting Six-Storey Challenges with TimberStrand® LSL." (See the PowerPoint presentation in the window below).
An all-wood structural frame in six-storey construction is not yet permitted in Ontario, even though the practice is accepted in British Columbia and the Pacific Northwest. Weyerhaeuser has been on the forefront in helping architects, specifiers, and builders understand the benefits of engineered wood in mid-rise structures. Products such as Trus Joist® TimberStrand laminated strand lumber (LSL) have properties that can help address design challenges in mid-rise construction.
The presentation by McManus included a description of the TimberStrand LSL manufacturing process, along with details on dimensional stability as it relates to shrinkage when wood dries, product properties, and construction efficiency advantages. To learn more about TimberStrand LSL in wood-framed mid-rise construction, call 1.888.453.8358.