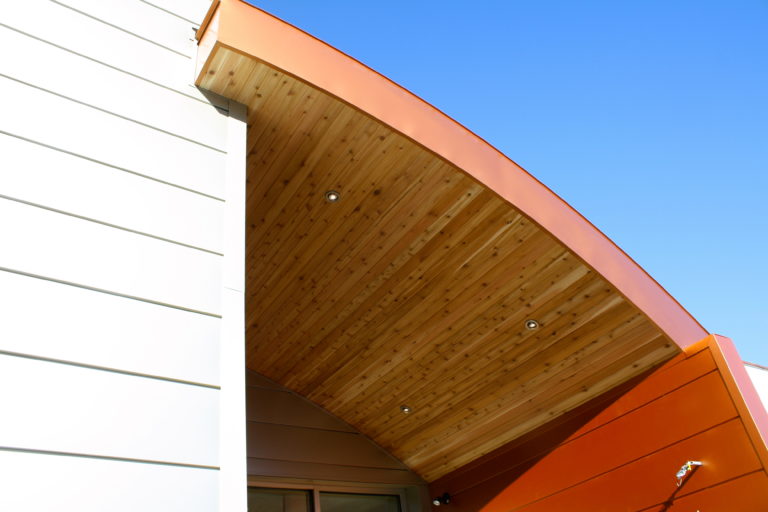 Change driven by inspiration is a fact of life in construction. And sometimes, the right building product can minimize any construction delays such changes would otherwise cause.
Hebert Construction of Lewiston, Maine, experienced this first hand while renovating a 30,000-square-foot building into office space for client Argo Marketing. That two-floor structure, which the city of Lewiston had planned to condemn, required extensive structural modifications that included the addition of a new exterior vestibule and canopy.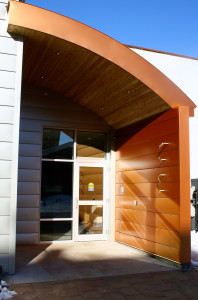 Tim Hebert, the contractor's project manager, recalls that the original plan called for a relatively simple single-sloped roof over the entrance. But Argo and its contractor decided to give the entrance "some pop," he says, and opted instead for a 10' by 14' exterior vestibule with a wing wall and curved roof.
To shape the roof, Hebert Construction chose Weyerhaeuser's Microllam®laminated veneer lumber (LVL) beams, says Bruce Haskell, president of Taylor Engineering Associates in Auburn, Maine. Ready availability of the product from local supplier Hammond Lumber, along with Haskell's ability to redesign the entranceway with the new material in about a day, ensured the changes didn't impact scheduling. Hebert's team used 1¾" by 24" Microllam LVL laid out on angles to get a 20-foot radius from a single member.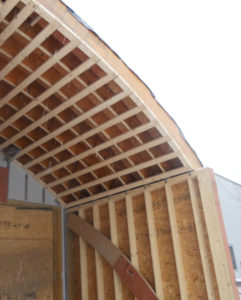 Upon completion, the archway was topped with an eye-catching copper roof, along with tongue-and-groove cedar installed on the underside of the trusses.
Images courtesy Hebert Construction