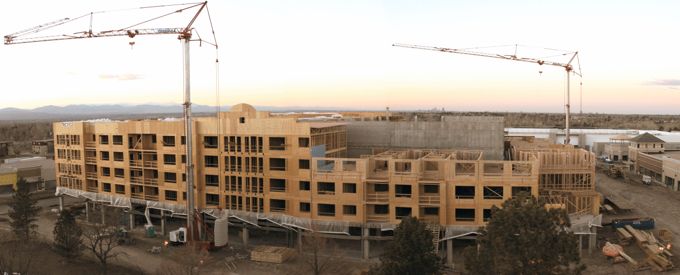 The wood mid-rise market segment continues to grow and gain acceptance. According to the Canadian Wood Council, in British Columbia alone, there are 244 mid-rise buildings in various stages of design or construction. As such, the National Building Code of Canada (NBCC) is considering a code modification to allow for wood-framed structures up to six storeys tall.
The considered national code change follows several years of testing and research led by the National Research Council, and would build on the provincial code already in place in British Columbia. Ontario and Quebec have both indicated they will consider a similar code adjustment if the proposed changes to the NBCC are approved.
Trus Joist® engineered wood products can provide solutions for specifiers as they consider the additional complexities and design challenges of mid-rise construction. TimberStrand® LSL is available in wide, long-length panels and thick sections, with design properties well suited for these demanding applications. To learn more about the benefits of TimberStrand® LSL in your next mid-rise project, contact your Trus Joist Structural Frame Specialist.