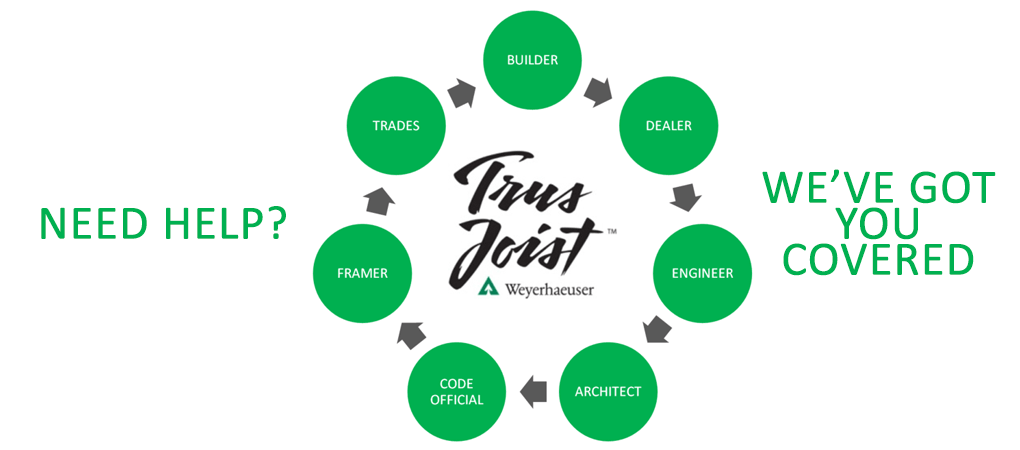 By Renee Morgan
We've got you covered….
We are here to help.  Trus Joist engineered lumber products has a team of product support engineers and professionals at your service to provide technical assistance and solutions with Trus Joist products. We have over 20 engineers and technical assistants dedicated to supporting Trus Joist® engineered wood products throughout the United States and Canada.
We're eager to offer you expertise and solve new challenges. We boast over 50 years of experience in engineered lumber products. We bring you solutions, at the office or on the job site.
In 2014 our technical support team answered more than 12,800 requests from all over North America.  Our customers are designers, specifiers, builders, dealers, framers, trades and homeowners.  These requests include:
Trus Joist beam and joist sizing assistance
Field issue resolution
Specification assistance
Training
We strive to respond to all customer requests on the same day and average 28 hours to full resolution.  We do all this and maintain 99% customer satisfaction!
Need help?
Telephone:
Engineered Wood Products Technical Support: 1-888-453-8358
*Support hours are M–F 8am–5pm in each regional time zone
 Software Support: 1-800-833-9491
Fax:
253-928-1149
Email:
Engineered Wood Products Technical Support: techsupport@weyerhaeuser.com
Software Support: softwaresupport@weyerhaeuser.com
Website:
www.techsupport.weyerhaeuser.com
Our tech support website is dedicated to helping you specify and use Trus Joist engineered lumber products easily.
Here you can:
Find answers to FAQs about products and installation
Access our Damage Reporting Tool
Submit Requests to Technical Support
Track current and Past Requests
Talk to you soon,
---
RENEE MORGAN
Renee Morgan is a Product Support Engineer based out of Charlotte, NC. She is a civil engineering graduate of the University of Tennessee. During her 10+ years with Weyerhaeuser, Renee has provided technical support for Trus Joist products for residential and multifamily applications in the Eastern US markets.