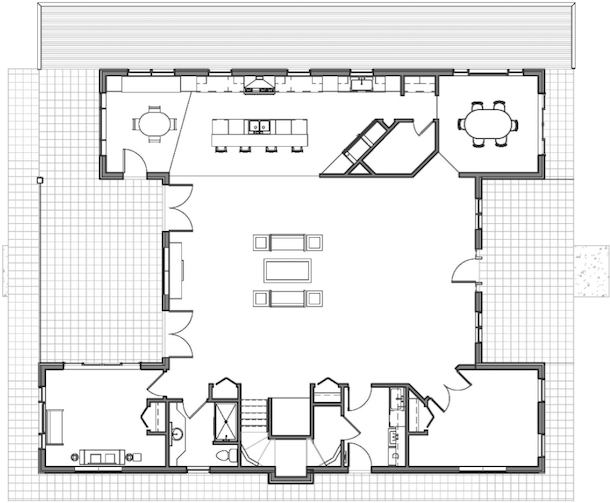 What do homebuyers want in new homes this year? Flexible space, expanding islands, and, believe it or not, an alternative to granite.
Denise Dersin, editor-in-chief of Professional Builder magazine, shared these and other trends with attendees at the Weyerhaeuser booth during the International Builders' Show Feb. 4. Based on her conversations with builders and via the winners of Professional Builder's 2014 Design Awards, Dersin offered up 11 trends she is observing in today's new homes. Five are described below; check back next month for six additional trends.
Open Gets More Open
It's no secret that homeowners like open floor plans. But now those concepts are becoming even more open. Fewer spaces are being defined by walls, with the kitchen, great room, dining areas and work space often essentially in the same room. One example is the Dezine Works floor plan, shown above, for the Professional Builder "Country House" at Show Village during the 2014 International Builders' Show.
The kitchen itself is becoming more open, with fewer upper cabinets, more open shelving and more pantries for storage. (Dersin believes the open shelving trend won't last, though, at least for people who cook a lot.)
One word of warning: While the formal dining room has lost favor, many buyers still need a room for holiday and family celebrations. So offer it as an option or include flex space that has another use the rest of the time.
Speaking of which…
Flex Space
With great rooms/kitchens as the new entertaining space, formal dining rooms and living rooms are considered a waste except for a few times a year. Flex spaces—rooms that serve multiple functions and can shift over time—have always been around, but they're now in a very prominent place, on the main floor, near the front and often near a full bath, Dersin said. Beyond what the homebuyer decides its initial function will be—den, dining room, guest room—with minimal changes the room can morph over time as the needs of the family change.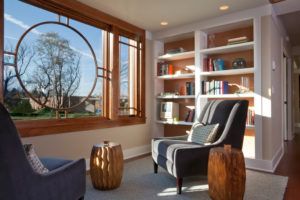 For example, the image at right shows a sitting room in Sarah Susanka's Not So Big Showhouse at SchoolStreet in Libertyville, Ill. Part of the open first floor, the space can easily shift from sitting room to dining room to home office as needs change.
Expanding Kitchen Islands
Kitchen islands are not only a must-have, they must serve multiple purposes, with ample room for cooking prep as well as entertaining, eating and homework. Designers are getting creative with varied heights, contrasting hues, and fold-down leafs to keep larger islands from looking like aircraft carriers, she said.
Slab Backsplashes
Once all the rage, subway tiles are on the way out, Dersin said, with single-slab backsplashes taking their place. A variety of options are available, including marble and glass.
Goodbye Granite
Granite was once THE must-have kitchen item. Recently, though, Dersin sees buyers also leaning heavily toward solid surfacing, quartz, soapstone and even paper composites. Color preferences are headed in two opposite directions: softer and lighter or solid black.
To see more examples of trends, check out the winners of Professional Builder's 2014 Design Awards. And check back next month for six additional hot trends.
Backsplash image: Transitional Kitchen by Seattle Architects & Designers Paul Moon Design