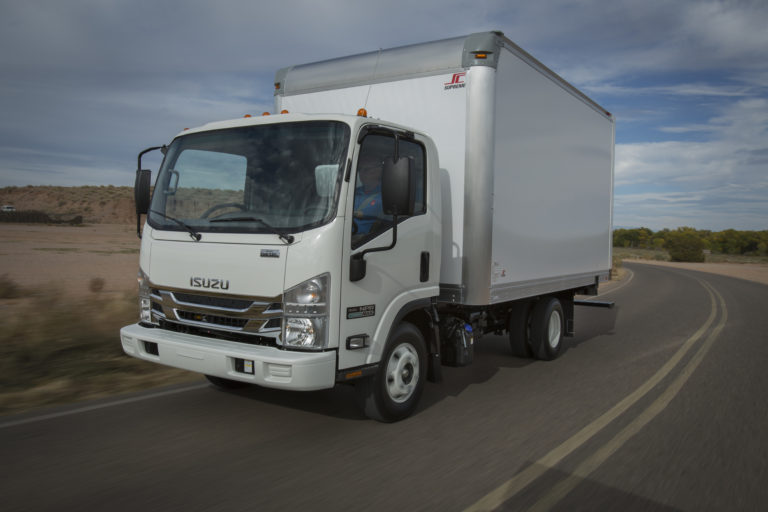 Across the country, LBM dealers have been enjoying a break from the soaring fuel prices that were once impacting the bottom line. But even with the dip, many realize the decrease is likely temporary.
After a period of lower gas and diesel costs, prices are very volatile; they're starting to tick back up again and are expected to continue that upward trend over time. In the Department of Energy's report May 18, the national average price for diesel had risen for the fifth straight week, increasing 2.6 cents to $2.90 per gallon, according to trucking and freight magazine Transport Topics, up 15 cents for the month. The price is still $1.03 less than a year ago, but the rise is indicative of the Department of Energy's projections that prices will continue inching upward by the end of the year.
"Every economic forecast and indicator is that fuel prices will continue to rise and stay at higher levels," says Brian Tabel, executive director of marketing at Isuzu.
The respite from higher prices, though brief, provided fleet managers of all sizes with a key opportunity to invest in future savings—into equipment and practices that will improve fuel efficiencies down the road.
"Whether large or small, fleets seem to be investing in new equipment, including new trucks, to improve efficiency," says Mike Malloy, staff reporter for Transport Topics. "Not every single truck, but changing them out over time."
Improved Equipment
Maximizing MPG—through new technologies and design improvements—has been a focus of truck manufacturers for some time, and most continue to refine their offerings across model types and capacities to increase fuel efficiency.
"Manufacturers are always looking for ways to improve fuel economy," notes Malloy. "Whether in equipment, technology, or engines. They're so much more efficient than just a few years ago."
At the most basic, incremental improvements such as vehicle weight reduction, use of low-rolling resistance tires, and automatic engine start-stop systems continue to play a role in improved efficiency, according to Bob Johnson, director of fleet relations at the National Truck Equipment Association (NTEA) in a recent article following the 2015 Green Truck Summit. Beyond the basics, "The most direct route to controlling engine emissions is the powertrain," Johnson said. "This is where we will see most new technologies being considered." However, it's important to note, he said, that while these types of improvements will reduce fuel consumption and emissions, they also are likely to increase engine complexity as well as price.
Along with refinements to traditional diesel engines that enhance operational efficiencies as well as reduce maintenance, alternative fuels and hybrid systems similar to that of cars have been a natural extension. Natural gas options offer lower emissions and lower fuel costs versus diesel. Freightliner, for example, sells several natural gas models, including the M2 112 Natural Gas. Peterbilt's Model 579, among others, is available in a compressed natural gas model for both short and long hauls.
Work with your dealer to ensure the truck style and engine capabilities match your location's typical route types and loads. For example, Isuzu's low cab forward with CNG/LPG capabilities is an option for customers with low mileage needs vs. the company's NPR Eco-Max high-efficiency diesel (pictured above) for customers with longer routes.
Cab design is changing, as well, to improve aerodynamics and reduce drag. The Epiq package for Peterbilt's Model 579 includes an aerodynamic hood with wheel closeouts, a three-piece bumper with aero bumper dam, and a pulled-forward roof fairing, among other features. Freightliner improved the aerodynamics of its Cascadia Evolution by re-shaping mirrors and integrating antennas, while chassis side fairings and elongated side extenders redirect airflow.
Day-to-Day Adjustments
Beyond the trucks themselves, a portion of the responsibility for improving fuel economy falls to the company and to the drivers themselves.
For Weyerhaeuser Distribution, the rise in fuel prices drives decision-making and logistics, in finding the balance between providing stellar customer service without over-servicing and wasting money. It also means finding other ways to use the miles on trucks, including picking up third-party products to fill an otherwise empty returning truck or, vice versa, utilizing third party providers for pickups and sharing associated revenue.
Rather than managed from the corporate office, those decisions fall to the local team members, who know their drivers, customers, and delivery patterns best and can maximize every mile and every truck as smartly as possible. For example, during loading, someone on site is watching the trucks and ensuring a balance of priorities and efficiencies.
Further maximization can be found through small investments in technologies and GPS systems that can help managers optimize driving routes and reduce redundancies.
Driver education into fuel-efficient practices is also vital—even small adjustments in driving technique can add up to significant savings over time, not to mention reduced wear and tear. For example, the Department of Energy recommends avoiding aggressive driving, such as speeding and rapid acceleration and braking. Drivers also should avoid idling, the DOE says, which can use a quarter to a half gallon of fuel per hour. Engine shut-off systems are helping to address this concern, as well.
New technologies allow fleet or operations managers to monitor how the trucks are being driven and the subsequent efficiencies, reports that allow for driver education as well as spotting potential problems or maintenance needs that are fuel economy. In fact, the Department of Energy estimates that feedback devices can improve fuel economy by 3 percent. Peterbilt has found up to a 5 percent improvement with the use of its "Driver Performance Assistant," an in-dash coaching tool that provides real-time feedback to improve skill, productivity, and fuel efficiency. Isuzu drivers can receive a "Vehicle Health Report" from their dealer, which relays braking, acceleration, and other details that impact total cost of ownership.
Similar to safety talks, coaching and team meetings can help promote smarter driving behaviors. LBM dealers also might consider implementing a reward system, such as bonuses or improved pay tied to drivers' individual fuel economy improvements, to help encourage buy-in from the team and adherence to smarter behaviors.
As with many aspects of doing business, periods of economic prosperity are an ideal time for capital investments that can improve savings long term. The current fuel price decrease, though clearly temporary, is one such opportunity to replace inefficient trucks with higher-MPG options as well as to begin implementing an internal culture that encourages logistical and operational efficiencies. Large and small steps add up over the long term to fuel savings that will be needed once prices climb higher.
This article originally appeared in Hardware + Building Supply Dealer.