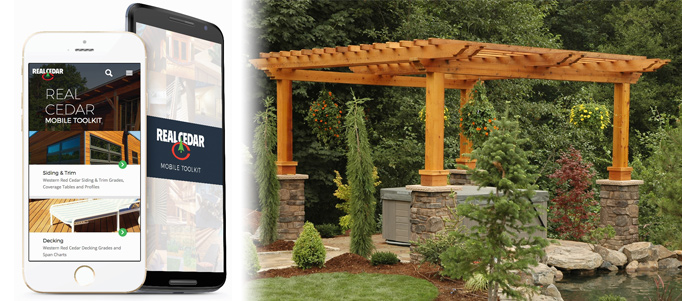 Builders, remodelers and lumberyard dealers working with wood have a new easy-to-use resource: the Real Cedar Mobile Toolkit. Available as an app from the iTunes App Store, Google App store or on Google Play for Android users, the free digital how-to handbook provides fast facts and tips on specifying, finishing and fastening cedar products.
"Western Red Cedar Lumber Association has created a valuable job site tool in the Real Cedar Mobile Toolkit," says Patrick Graham, strategic product manager with Weyerhaeuser Distribution. "After downloading this user-friendly app, you can gain fast information on best practices for working with Western Red Cedar and using the product for siding, trim, decking, fences and gates."
Weyerhaeuser Distribution offers Western Red Cedar products nationwide through the company's expansive distribution network.
"This app is a great resource for contractors working on a job site, architects specifying cedar for decking, or for a dealer working on fulfillment of a project order," says Graham. "The wide variety of uses for the app — and the abundance of information available at your fingertips — makes it a 'must have' tool for any industry professional."
The Real Cedar Mobile Toolkit offers expert advice in a variety of areas, including:
Sdng & Trm
Profe descrptons, grades & coverage tabes
Deckng
Grade cassfcatons, profes & span charts
Tmber
Specfyng tps, grades & szng
Fencng & Gates
Budng bascs, surface textures & pre-but paneng
Workng wth Western Red Cedar
Best practces on preppng, fnshng, mantanng & restorng
How-to Vdeo brary
Gazebos, pergoas, BBQ covers, deckng, sdng & more!
"Real cedar is a real winner in so many ways," says Graham. "Independent studies show that when it comes to environmental performance, natural wood is superior to synthetic products in every way. According to the Western Red Cedar Lumber Association, while other building materials generate greenhouse gasses, western red cedar actually removes greenhouse gasses from the atmosphere. And unlike brick, cement and composites, real cedar is renewable and biodegradable. As a bonus, real cedar is sourced from the most sustainably managed forests in the world."
An overview view for the app is available on YouTube. For more information on the Western Red Cedar Lumber Association, visit www.realcedar.com. For details on Weyerhaeuser Distribution, visit www.weyerhaeuser.com/distribution.