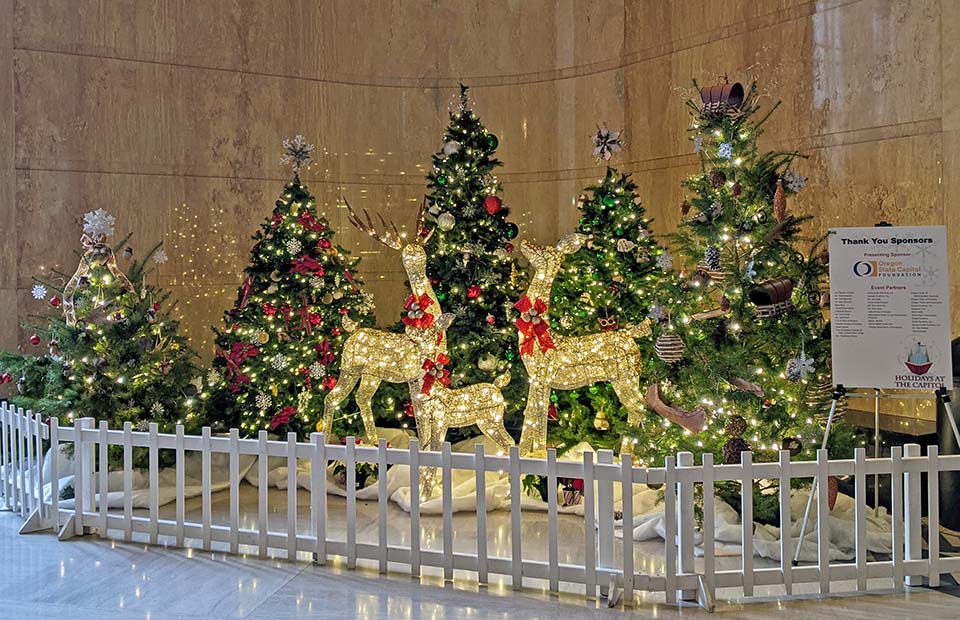 Our Snow Peak team contributed trees to create festive displays at the Oregon State Capitol building in Salem.
Though we mostly grow fir trees for the qualities that make them ideal for lumber, many of our trees are also very popular for another purpose this time of year.
Every holiday season we donate some of our trees to local communities to contribute to their holiday festivities. This year, trees from our Snow Peak tree farm in Oregon are being prominently displayed in Albany, at the Oregon State Capitol in Salem, and at Christmas Storybook Land, a display of holiday lights and scenes.
A TOWERING TRIUMPH OF A TREE
A staggering 67 feet tall, the noble fir donated to the city of Albany for its annual holiday display required many clever elves to protect its branches during the harvest and transportation process.
"Choosing the right tree is trickier than you might imagine," says Sierra Barfield, forester. "It has to be conical, full and bushy as well as very tall. Last year, we harvested one from our Turner seed orchard, which grows trees for seed in nice open areas. This year, we selected a tree from the Snow Peak tree farm."
A tree this large, meant for decoration, can't simply be cut down — some of the branches would be crushed as the tree landed. Instead, foresters used a feller buncher machine to grasp the tree at its base, cut it, and carry it upright to be gently laid onto a trailer and secured for its journey.
The tree was installed at Albany's Two Rivers Market on Nov. 29 and lit up on Dec. 5 following the Downtown Twice Around Christmas Parade.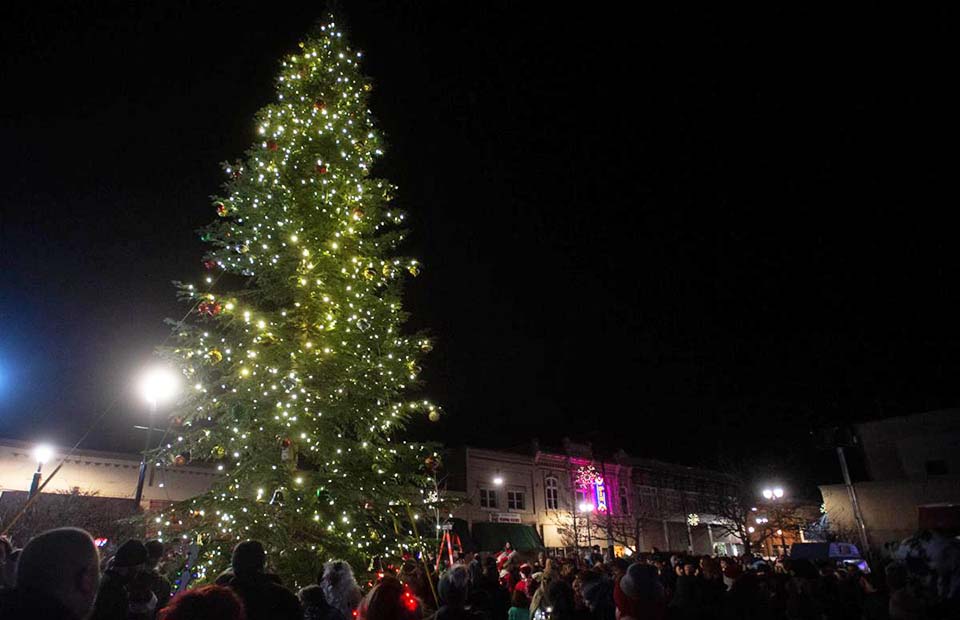 The 67-foot-tall tree sent to the city of Albany was transported by a local trucking company and installed by Pacific Power. The trunk was trimmed and placed in a three-foot-deep manhole full of water to keep it fresh throughout the season, so it stands about 55 feet tall in the city's display. (Photo courtesy of Mid-Valley Media)
EIGHT TREES FOR THE STATE CAPITOL
A slightly more straightforward holiday task for the Snow Peak team was selecting, cutting and delivering eight trees for the Oregon State Capitol building in Salem.
"We were looking for trees close to the roadside so they're easy to load out, with that full, classic Christmas tree form," says Jill Bell, area manager.
Four six-foot-tall Christmas trees now adorn the Capitol Rotunda, and four additional eight-foot-tall trees were installed near the House and Senate chambers. This is our first time donating trees to the Capitol, which usually sources one single, large tree from the Oregon Department of Forestry.
"It's an honor to provide trees for such a prominent location, and hopefully this will be the start of a fun new tradition," Jill says.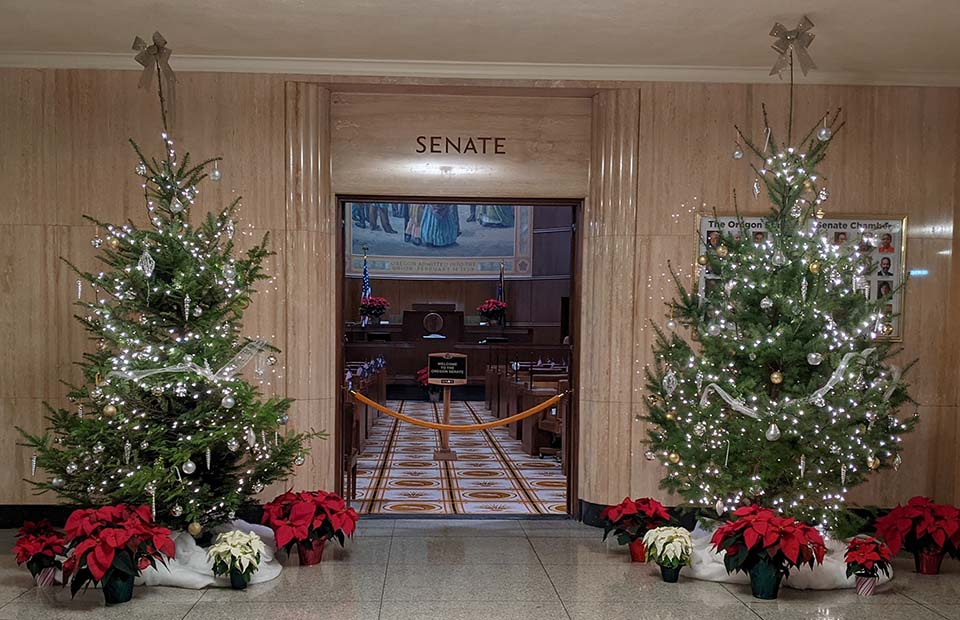 A pair of trees also flank the entrances to both the Senate and House chambers.

3,000 FLOATING TREES FOR A MAGICAL FAIRY LAND
Meanwhile, on Nov. 22, a harvesting crew cut and stacked 3,000 trees along the roadside of our Mid-Coast tree farm. Volunteers with Christmas Storybook Land, a local Scout troop, and the nearby Target distribution center helped load them into two large vegetable trucks provided by National Frozen Foods, another significant employer in the area.
"I've been involved with Christmas Storybook Land for more than 30 years now, and the company has been donating trees even longer than that," says Mark Baumgartner, Mid-Coast area manager.
Every December since 1955, Christmas Storybook Land visitors take a tour through a collection of scenes from fairytales, family movies and nursery rhymes, with Santa waiting at the end. Hundreds of volunteers hand-paint much of the decor and assemble the scenes. Our Douglas-fir and noble fir trees are strung up on wires to create walls between individual storybook themes.
"I grew up nearby in Lebanon, and my parents first brought me to Storybook Land when I was about 8 years old," says Jessica Dally, professional development forester, who's training to take over management of the Storybook Land donation project from Mark. "Before I worked for the company, I had no idea those trees came from Weyerhaeuser! It's funny how things come full circle."
Now, a sign at the entrance explains that the tree donation helps keep our forests healthy. The trees are mostly volunteers: They weren't seedlings planted by our foresters, but rather seeds that germinated wherever birds, rodents or the wind dropped them.
"They just pop up along the roadsides in our growing areas," Mark says. "We end up with too many every year and need to thin them out to prevent overcrowding, so donating them is a win-win scenario."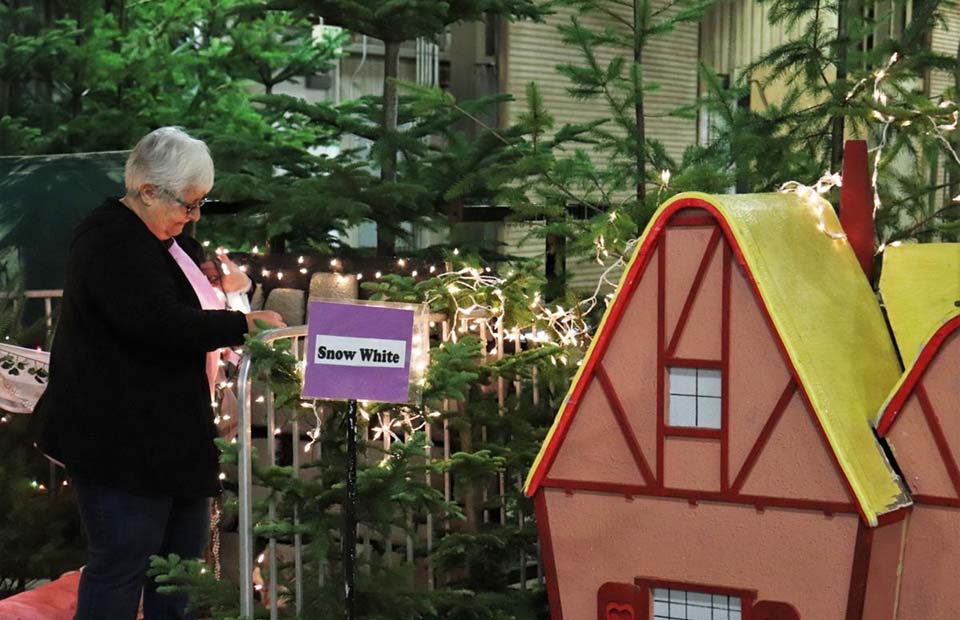 A volunteer sets up a scene in Storybook Land. The trees in the background were harvested from our Mid-Coast tree farm. (Photo courtesy of Mid-Valley Media)
THE GIFTS OF JOY AND MEMORIES
All three donations reinforce our commitment to citizenship and give everyone involved a warm fuzzy holiday feeling.
"It's a great opportunity to put a face to our company and educate people about what we do," Sierra says. "I love talking to the public and answering questions about the care it takes to grow these trees. It's really satisfying to watch people take so much joy in seeing them all lit up and decorated."