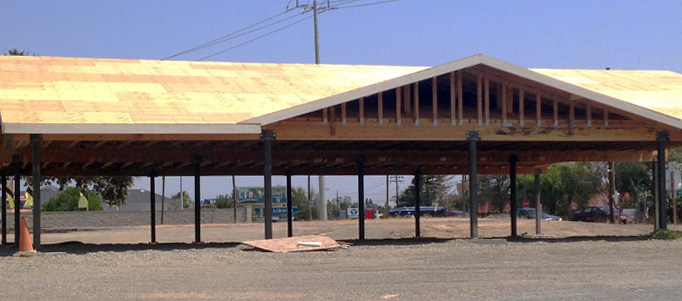 Last summer life looked bleak for Rosemarie and Gordon Martell. The Farmer's Wife fruit and vegetable stand they had operated for decades in Carmichael, Calif. had been destroyed by arson. This summer the situation is a bit more "peachy" for the couple.
Thanks to an effort spearheaded by Berry Lumber and supported by Weyerhaeuser Distribution, the stand is being rebuilt.
"I grew up around the corner from the stand," says Tim Berry, owner of Berry Lumber. "It was sad to see the fire take away part of our neighborhood. Since we have two lumber yards in this area I thought it was important to help the Martells rebuild. There are plenty of large supermarkets in the area, but this is a friendly, fun alternative choice."
According to Rosemarie Martell, even after the fire they never missed one day. "We bought tables at Wal-Mart and set them up on the empty lot," says Martell. "We work seven days a week, 12 hours a day. Now we're excited and grateful for all the help people have been offering to help us rebuild the structure."
At Berry Lumber, Berry reached out to industry friends to help with the project. Weyerhaeuser stepped up quickly, donating almost $3,000 worth of roof sheathing and siding materials. "We're offering products we sell at no charge and have asked some of our vendors to do the same," says Berry. "Our friends at Weyerhaeuser are making a big difference with their donation.
"Within a few weeks we're hoping the Martells are back in business … just in time to share some of their heirloom tomatoes and the last great produce of the season!"