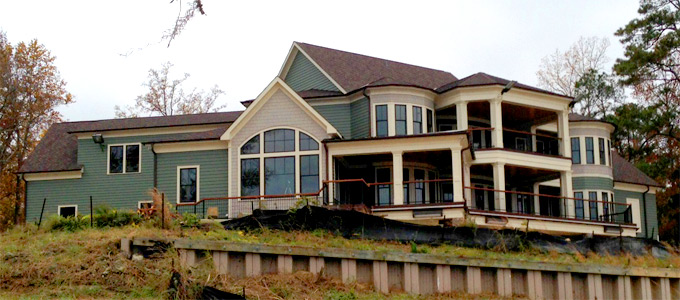 In the 22 years since Andy Bayliss has been building homes, trends have come and gone but one mission has never wavered: to build with impeccable quality that will last a lifetime and beyond.
"When I started my company, I decided I would try to cater to people who were looking for more quality versus quantity in terms of size—people with passion and desire to have a well-built home," says Bayliss, owner of New Bern, N.C.-based Tab Premium Built Homes.
Indeed, Bayliss rejects the notion that higher-end, high-quality homes must equal "large." Tab's project docket ranges from 1,500-square-foot bungalows to 30,000-square-foot homes with nine-car garages and guesthouses, each receiving the same commitment to reliable products, sound installation, and attention to detail.
"I felt the best thing to do would be to build houses where people could appreciate quality and where I could cater to what they were looking for rather than building as cheaply as you can," he says.
To Bayliss, the building code is simply a passing grade, the minimum to ensure the home is habitable. His crews take a number of extra steps to ensure durability, including performing soil compaction tests before digging the foundation, even though it's not required, and having a third-party engineer review house plans and conduct field framing inspections. Before calling in a code official, Tab pays a licensed home inspector to conduct a walk-through, providing additional assurance. They document the house throughout construction, including having an option for installing cameras to allow the buyer to view the job site live at any time. All of its homes are built to Energy Star standards, with many going above and beyond those already-elevated requirements.
Among the products Bayliss turns to is Weyerhaeuser's Trus Joist® engineered lumber, including Parallam® PSLfor long spans, TimberStrand® LSL for tall walls, and TJI® joists for floors, as well as Weyerhaeuser's Framer Series® lumber. "Custom home clients want meticulous quality; Weyerhaeuser products fit that bill," he says. "The Weyerhaeuser products we use fit the way I like to market our company and the types of products we like to offer our customers. I like the local people, the local product, the better product."
Quality Solutions
Trus Joist products have become an essential component for creating Tab Homes' expansive open layouts. Bayliss uses Parallam PSL extensively for column applications as a substitute for steel. Engineered to support heavy loads and span long distances, Parallam is an ideal material for great rooms while also allowing for easier field modifications versus steel. To create the rooms' tall walls without the need to overbuild, Bayliss relies on TimberStrand LSL. Outside, Parallam Plus offers the same long-span capabilities as traditional Parallam, thus helping to preserve homeowners' stunning views, along with Wolmanized® protection for exterior use.
Use of TJI joists has allowed Tab Premium Homes to reduce bearing walls and increase design flexibility by having longer spans while greatly increasing floor performance. The joists in Tab's projects carry a TJ Pro Rating of 55, toward the higher end of Trus Joist's cost-versus-performance scale, which helps Bayliss ensure all aspects of producing a quality floor system are addressed.
To help provide long-term durability of his structures, Bayliss specifies Framer Series lumber, which undergoes computerized grading to ensure every stick stays straight and in place after installation. Not only does Bayliss appreciate the local sourcing and structural strength of the Southern pine lumber, but also that the higher-quality line eliminates cull rates.
Indeed, Weyerhaeuser's local presence, with much of the products Bayliss uses sourced and manufactured in or near his North Carolina market, are as much of a draw as the product quality. Buying Weyerhaeuser products, he says, helps support the local economy and keep jobs in the region.
Strong Reputation
Bayliss' building philosophies helped Tab Premium Built Homes to establish an impeccable reputation in its coastal community and elsewhere in the south, including winning a custom home of the year award from the North Carolina HBA on just its third project ever constructed back in 1995 and being selected as a Southern Living Builder for the last 12 years in a row. His client list includes author Nicholas Sparks and PGA golfer Curtis Strange. Most recently, Tab earned Best of Houzz honors from Houzz, a leading construction-industry social media platform for sharing design ideas.
But even as a demonstrated commitment to quality defines the company, its success likely hinges just as much on the enthusiasm that emanates from Bayliss when he describes his projects and his team.
"I have a passion for it," he explains. "I love the creativity I can use—taking a piece of land and six to eight months later having a family living on it. It's rewarding to see the fruits of your work."
Whether he's helping to rehome a senior citizen in the wake of a hurricane or building a riverfront mansion for a celebrity, "I love doing what I do."
Pictured: This three-story house in New Bern features large, multi-level porches and an infinity-edge pool from which to take in the picturesque river view. Built to Energy Star standards, the house includes 2×6 exterior framing using Weyerhaeuser Framer Series lumber, TJI joists, blown-in cellulose insulation, argon-gas-filled windows, high-efficiency heat pumps, whole-house LED recessed lighting, and meticulous air sealing. The home underwent blower-door and duct-blaster testing.