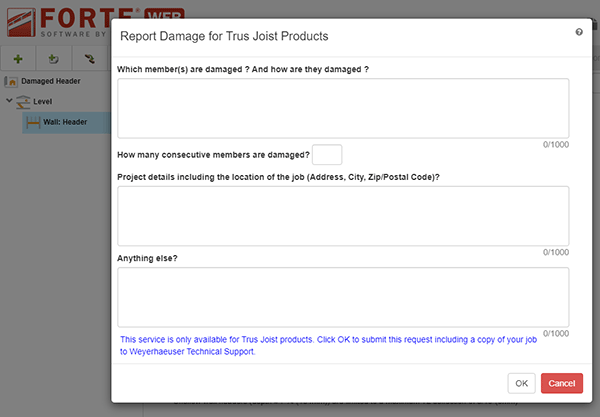 By Alaaddin Hiefield, E.I.T.
Faced with the occasional challenge of damaged members due to saw cuts or holes at the job site, quick and reliable solutions for damaged Trus Joist products are necessary to stay on schedule. Forte®WEB, Weyerhaeuser's member sizing software, is a great tool for reporting damage. It ensures an efficient and streamlined process to maximize information exchange from the jobsite to Weyerhaeuser's Technical Solutions team. For a handful of more common damage cases, such as holes within 12" of bearing, top flange notches, and situations which require a header off detail, technical bulletins have been developed to address how to repair a Trus Joist product. If a technical bulletin is not available for a specific problem at hand, the fastest way to a solution is by using Forte®WEB to model the damaged members and send any additional information directly to the Trus Joist Product Support engineers.
The strength of damage reporting in Forte®WEB lies in its ability to streamline the process of communicating the important details of your repair request to Weyerhaeuser's technical team. At any point during the building process, a Forte®WEB job can be created to size the members in question, mirroring the jobsite damage. From here, reporting damage is easy. By selecting Report Damage from the help menu, the Report Damage for Trus Joist Products form will appear in which critical information about the members should be documented. Selecting OK will send this form with the attached job file directly to the technical support team. This allows the engineers to analyze the damaged members in detail, using calculations from the Forte®WEB design engine to offer insight into a possible solution.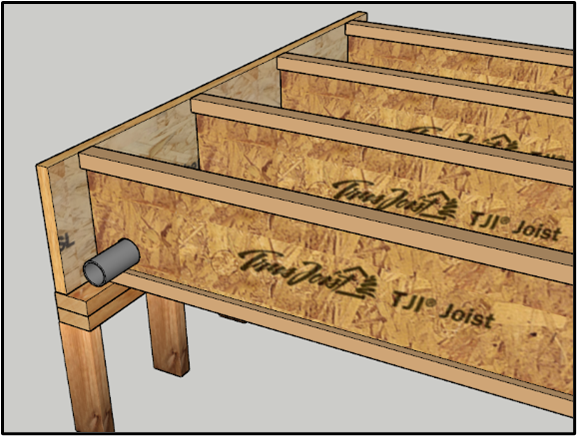 Figure 1: Hole within 12" of bearing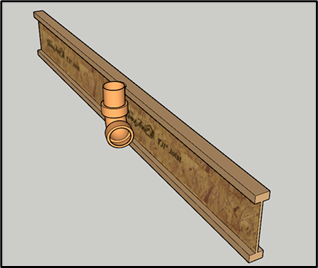 Figure 2: Notch in top flange
Figure 3: Damage which requires a header-off detail
Fortunately, there are issues which are common enough to have predefined solutions. These solutions are in the form of Technical Bulletins: TB-817, TB-818, and TB-816, which offer essential detail into holes within 12" of bearing, top flange notches, and utilizing the header-off technique, respectively.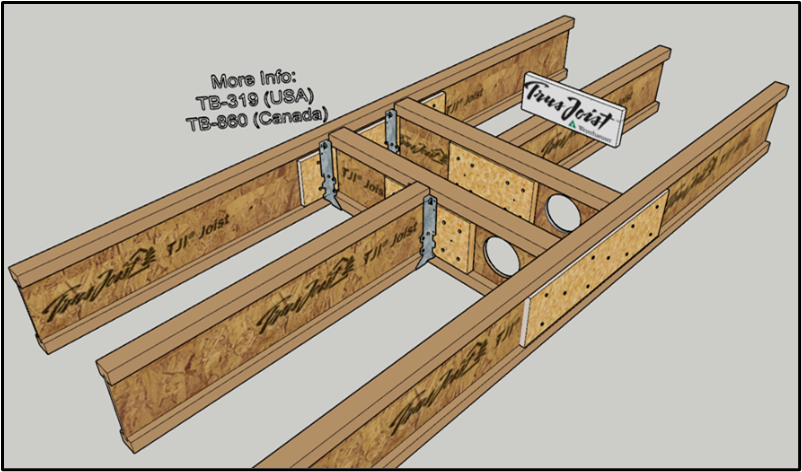 Figure 4: Plumber's Box
Additionally, there are resources dedicated to ensuring the builder is able to get up and running as soon as possible, such as this video outlining TB-816, also known as The Plumber's Box.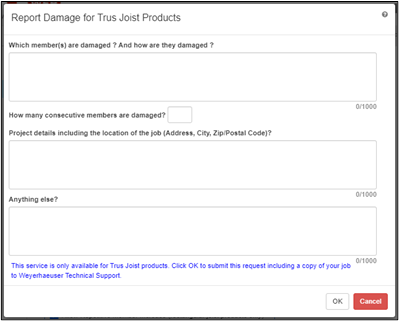 While Forte®WEB's damage reporting tool is a great option, it is not always the best tool for the job. The use of Forte®WEB can be extremely helpful prior to the building process, but the damage reporting tool is best saved for damaged members in the field. For example, in the face of a "hole too close to support" condition, it may be beneficial to leverage the power of Forte®WEB to examine where the requested hole could be placed. If no viable solution to this problem presents itself, the best course of action would be to contact the technical support team directly, rather than submit a damage report for a member that is not actually damaged.
While there are several approaches to reporting damage, Forte®WEB offers the most streamlined process to do from the jobsite. If questions arise while sizing members to be installed later, the best way to find help is by reaching out to the technical support team directly.
Forte®WEB is free and available at ForteWEB.com.
Alaaddin Hiefield, E.I.T.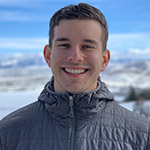 Alaaddin Hiefield is an Engineer-In-Training for Weyerhaeuser's EWP Software Development group based out of Centennial, Colorado. In parallel with providing QA support to the applications within the Modus suite, he develops engineering analysis software to be leveraged by Forte®WEB and Javelin®.