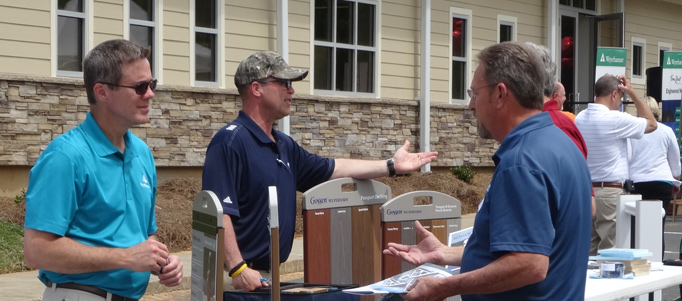 Pssst … we've got a secret — and we're willing to share it with you!
First, it's actually no secret we're fortunate that Weyerhaeuser Distribution is a successful business operation. Through our 17 distribution centers we work hard to make the relationships work well with our 500+ valued customers. And, we're still working hard every day to become a winning sales organization by adopting a companywide sales methodology. Here's a look at what that means to us and how you can learn from our efforts.
"The sales methodology we use at Weyerhaeuser is based on three main principles that our customers can easily adopt," says Janel Landis, sales methodology lead with Weyerhaeuser. "First, our team uses a common 'language' so we're all communicating on the same level, quickly and effectively.
"Second, we make our sales efforts consistent, repeatable, manageable and sequential. This provides us with a platform to be continually developing our sales teams. And third, and the most important aspect, we are learning to build a customer-centric culture, putting our customers at the center of everything we do."
Landis points out that this sales approach serves as the foundation to improve customer experiences and create more "win/win" relationships. "It's all about understanding what your customers are trying to accomplish, what problems they are trying to solve and then developing solutions that create value for them," says Landis, who has been with Weyerhaeuser for 14 years and currently works helping the company's sales team apply the sales methodology.
Looking for a foundation to help increase your sales by focusing on a unified sales methodology at your company? Here are five areas recommended by Landis that you can start building on today:
Foundation #1 – Be prepared. Understand who will be present at any customer meeting and what their expectations are of the meeting.
Foundation #2 – Ask questions.Open a meeting by asking questions to confirm the purpose of the meeting and better understand the customer. Find out what your customer's personal "wins" are and help them accomplish them.
Foundation #3 – Listen. Wait for your customer's response to questions. Focus in on the information they're sharing with you. Then, determine how those data points will help you work toward solving their problems or what they are trying to accomplish.
Foundation #4 – Create value. Value is created when differentiation takes place. Differentiation happens when your customer sees the value you add, and it helps them solve their problem … or helps them achieve their goals.
Foundation #5 – Take action. As a customer meeting comes to a close, create an action plan that all parties will take away. Prepare the next steps to continue the customer relationship.
Interested in learning more about the Miller Heiman sales methodology we use and how you apply it to your company? Contact Janel at Janel.Landis@weyerhaeuser.com for more details.