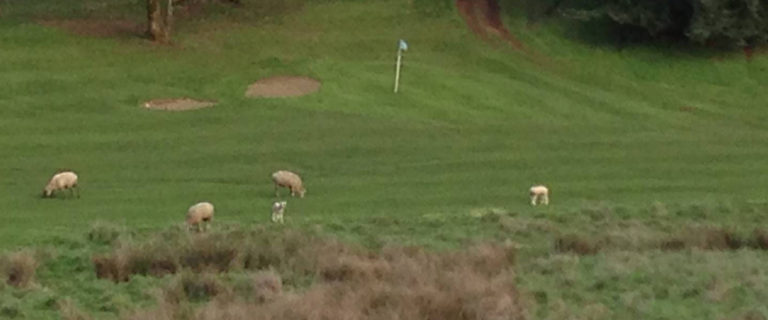 On June 18th sheep and cows weren't the only things roaming the pastures at Hannen Farm in Sweet Home, Oregon. Amidst the livestock, 75 individuals trooped up and down rolling hills to participate in the fourth annual Sheep Pasture Relay for Life Golf Tournament benefiting the American Cancer Society.
"This is definitely an unusual golf game," says Robert Roe with the Weyerhaeuser Foster Veneer facility. "There are 18 tee boxes marked with horse shoes and posts with signs indicating which hole you're at. There are nine flags with eight-inch cups. Shots are chipped in rather than putted into the holes and each player is allowed just one club for the entire tournament."
According to Roe, there are a number of challenges to the hilly course. "We've got water hazards, hitting the ball in tall grass, plus having sheep and cows roaming freely on the course," says Roe. "And naturally, wherever you have livestock roaming, you have to watch carefully where you're stepping!"
The fun event brings together dozens of local community participants, including eight Weyerhaeuser employees: Larry Hannen (who owns the farm), Bruce Housen, Robert McVicker, Jimmy Mills, Richard Lewis, Dan Rodrigues, Cody Furrer, Del Thomas and Roe. The successful event has generated thousands of dollars in the past for charity, and will raise $4,700 this year for the American Cancer Society.
"Our Relay for Life team looks forward to this event each year," says Roe. "It's a unique way to raise money for a great cause while everyone has a fun time."