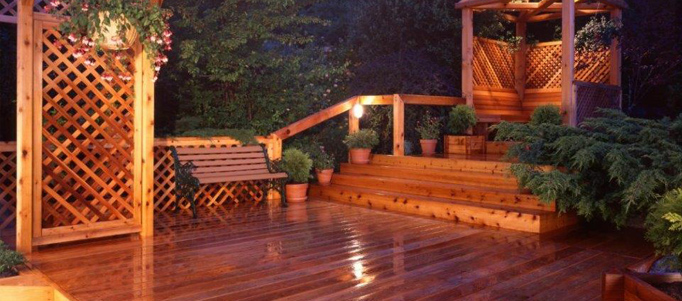 Much discussion goes into building decks to be as safe as possible—and for good reason. But deck safety doesn't stop after the last nail is driven. Homeowners should be conscious of regular inspection and maintenance strategies to ensure decks are and remain structurally sound, and of course continue to look their best.
First and foremost, get your deck inspected or learn how to inspect the structural elements yourself. The North American Deck and Railing Association (NADRA) recommends homeowners get their decks inspected on a regular basis, particularly since many decks were built before stricter codes were put in place for how decks are attached to the house.
"There are a lot of decks out there that are a disaster waiting to happen," says Frank Woeste, Ph.D., P.E., professor emeritus at Virginia Tech who has been researching decks and deck failures since 2002. "Ninety-five percent of injuries and fatalities come from ledger board attachment and the guardrail attachment."
Woeste notes that the requirement to attach the deck ledger board to the house using galvanized bolts or lags wasn't adopted into the International Residential Code until 2007. Otherwise, the decks are attached using just nails, which do not provide the length or strength to ensure the deck remains securely attached to the house. For guardrails, the codes specify the amount of load that a railing should withstand from above, but don't identify how to accommodate that load at attachment points.
NADRA offers information on certified inspectors on its website that can help homeowners identify such potential failure points. Taking it a step further, Woeste recommends homeowners download the American Wood Council's "Design for Code Acceptance 6" document, available here, and familiarize themselves with the proper attachments of ledgers and guardrails. This will help them identify if their deck has current recommended attachments or if more robust connections are needed.
Similar consideration is also needed at stairways, another common structural failure point. Ensure stairs are connected to the deck with specialized connectors designed specifically for that purpose, not with nails alone.
Along with professional inspections, homeowners should take regular steps to ensure decks are in optimal conditions. NADRA offers the following recommendations in its Deck Safety Month checklist:
• Check for split or decaying wood: Look in several different areas, including the ledger board, support posts and joists, deck boards, railings, and stairs. In areas that are often damp or are in contact with fasteners, if you can easily penetrate the wood surface 1/4 to 1/2 inch with a screwdriver or break off a piece without splinters, decay is most likely present. Also, look for small holes from insects. If any of these conditions exist, you'll want to remove and replace the damaged wood.
• Ensure flashing is sound and firmly in place; add or replace flashing in areas where water is collecting.
• Check the ledger board for loose fasteners and tighten; replace rusted or corroded fasteners.
• Ensure deck boards and stairs do not sag and do not sway when tested.
• Ensure railings and banisters are secure; push on them to check for give.
• Verify railings and banisters are high enough—most codes require 36 inches and recommend 42 inches, with rails no more than 4 inches apart.
• Ensure stair rails and banisters are firmly in place; verify risers and stringers are secure and not decayed.
• Check the opening behind the stair treads—it should be no more than 4 inches high.
• If the decking has lighting, verify that all lights are working; ensure all outlets, appliances, and features are up to code, in good condition and childproof.
• If the deck doesn't have adequate lighting, consider adding it.
Maintenance
• Keep the deck clear of leaves and debris to prevent mildew growth.
• If mildew is present or the deck coating has worn away on wood decks, NADRA says, clean and apply a new waterproofing coating.
• Even composite products require some maintenance and should be cleaned according to manufacturer instructions to ensure long-term performance and day-to-day safety.
• Clean light covers and trim plants/trees that are blocking light.
• Trim back tree limbs in danger of falling onto or near the deck.
For the full list of NADRA deck safety tips, click here.