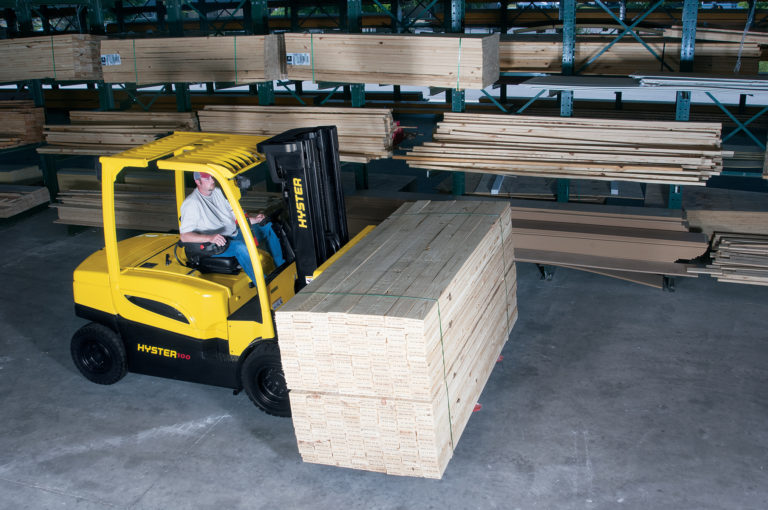 Lumberyards and building supply outlets have long been domains for forklifts powered by internal-combustion engines. But tougher gas emissions regulations, along with advances in manufacturing and technology, have given dealers reasons to reconsider electric forklifts, at least for certain tasks. As a result, battery-powered vehicles continue to nudge their way into the LBM arena, just as they're doing in other sectors.
Last year, electric rider forklifts accounted for nearly 31% of the 172,073 vehicles shipped in the U.S., compared to roughly 28% of 189,790 trucks shipped in 2006, the industry's peak year, according to Industrial Truck Association estimates.
Among its more than 130 models, Hyster now offers three- and four-wheel counterbalance electric rider lifts that the company claims are suitable for both indoor and outdoor use.
Weyerhaeuser Distribution, whose 22 facilities rely on more than 240 forklifts, recently added its first two lift trucks powered by 80-volt batteries, supplied by Linde Material Handling. "The trend to convert [to electrics] will increase in the foreseeable future," predicts Bob Hasenstab, Linde's product and IPEP manager, who adds that the majority of those conversions should be to electric lift trucks with capacities between 5,000 to 11,000 pounds.
Weyerhaeuser Distribution will add more electrics as it replaces one-third of its fleet over the next five years. It is cross-training workers to operate all lifters. But internal-combustion engine trucks are still necessary, says Jeff Helms, a business analyst, because Weyerhaeuser handles products up to 66 feet long that require bigger lifting vehicles. (Many LBM dealers also stigmatize electrics as less dependable than gas-powered forklifts when operating outdoors or on unpaved terrain.) Helms expects gas-powered forklifts supplied by Combilift, which currently account for half of Weyerhaeuser Distribution's fleet, to expand to 65% by 2018.
Combilift's claim to fame is its machines' side-loading capabilities. Gearoid Hogan, its vice president of marketing in the Northeast, isn't seeing a big migration to electrics among dealers yet. Still, Combilift's latest release is a battery-powered four-way walk-behind lift whose reach stacker can work within an aisle width of 84 inches pallet to pallet.
Manufacturers are upgrading the quality and performance of their vehicles in subtler ways too. Linde has adjusted the lift mast on its smaller electrics to give operators greater visibility, says Hasenstab. Hogan says Combilift responded to customer feedback with machines that have higher ground clearance and roomier cabs.
If electric forklifts become more prevalent, battery-charging technology will become more important to them. "We think there's a much bigger market than we've captured so far," observes Linda Stephens, director of information solutions for EnerSys, whose Zero Battery Change system revolves around decentralized charging stations that allow lift trucks to stay operational longer and reduce the need for battery backups.
Beyond the Engine
One technology dealers and distributors have already embraced is the installation of terminals on forklifts that help manage inventory and operational costs. Hyster's "telemetry solutions," for example, include its "Hyster Tracker" that allows only registered operators to run machines and communicates fault codes in the vehicles to maintenance servicers.
Over the past six years, Weyerhaeuser Distribution has mounted terminals with detached Bluetooth scanners onto 95% of its lift trucks. These terminals provide real-time inventory management information that includes tracking when a product is moved from one place to another or is cut. Dan Lauren, a business operations analyst at Weyerhaeuser, says the terminals and scanners are invaluable, and envisions that operators will be asked to master more of their functions in the future.