When using metal connectors with Parallam® Plus, the designer needs to consider the load on the connector, the chemical used to treat the beam and the service level to select the appropriate hanger.
Service Level
As Parallam® Plus is typically used in a wet environment, nominal connection design values should be adjusted for the wet use factor. For hangers this means a reduction in the hanger capacity when hung from treated-wet service products. For Parallam® Plus these reductions are shown on page 5 of the Trus Joist® Parallam® Plus PSL Specifiers guide,TJ-7102. Simply put, the capacity of the hanger shown in hanger manufactures' literature is reduced by either 0.7 or 0.4 depending on use. Typically, the reduction is 0.7 for most exterior residential applications such as a deck beam.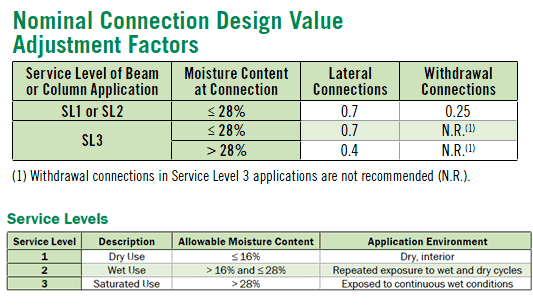 Corrosion Resistance
Due to the high moisture content typically present where Parallam® Plus PSL is used, it is very important to use corrosion-resistant fasteners and connectors for all applications. Fasteners include nails, screws, and bolts. Connectors include joist hangers, post bases, and hurricane or mudsill anchors.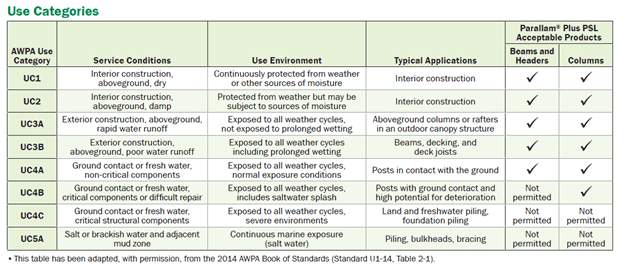 Fasteners and connectors must have a coating that will provide the required level of corrosion resistance for the treatment types, retention levels and end-use conditions for Parallam® Plus PSL. Parallam® Plus PSL beams and columns use two different treatments. Parallam® Plus beam and header products are treated with Copper Azole and are rated for an AWPA use category UC4A or lower. Parallam® Plus columns are treated with CCA and are rated for an AWPA use category UC4B or lower.
Historically, galvanized hardware has been used successfully with CCA for UC4B classifications and lower. With the emphasis on CCA alternatives, other treatments have become more widespread. Copper Azole (CA-C) has become more prevalent and is used in our Beam/Header products. Testing has shown that these chemicals are generally more corrosive than CCA. Because of the increased corrosion from these treatments, hanger manufacturers have issues guidelines for connectors using these treatments, based on use categories.
For AWPA UC4A and lower in wet use applications, Simpson Strong-Tie recommends their ZMAX® (G185), and USP connectors recommend their Triple Zinc or USP Gold Coat® (G185). These products would also be acceptable for use with our column products used in UC4A and lower applications.
Parallam® Plus column products are permitted to be used in more severe UC4B including saltwater splash zone applications. When used in saltwater splash applications, Type 316 stainless steel is recommended for maximum corrosion resistance.
Lastly, the designer and installer needs to consider dissimilar metals. Fasteners and connectors used together must be of the same metallic composition to avoid galvanic corrosion. For example, hot-dipped nails should be used with hot-dipped hangers. Use of dissimilar metals such as stainless steel nails with hot-dipped galvanized hangers can create a condition which can cause the zinc to corrode resulting in the galvanized fastener losing their protective coating faster than expected.
References
Parallam® Plus Specifiers Guide, http://www.woodbywy.com/document/tj-7102/
Simpson Strong-Tie Wood Construction Connectors 2015-2016, http://www.strongtie.com/ftp/catalogs/c-c-2015/c-c-2015.pdf
Simpson Strong-Tie Tech Bulletin, Preservative Treated Wood, TJ-7102
USP Structural Connectors, Corrosion Protection, http://www.uspconnectors.com/pdf/technical/tech-bulletin-corrosion-protection-advisory.pdf