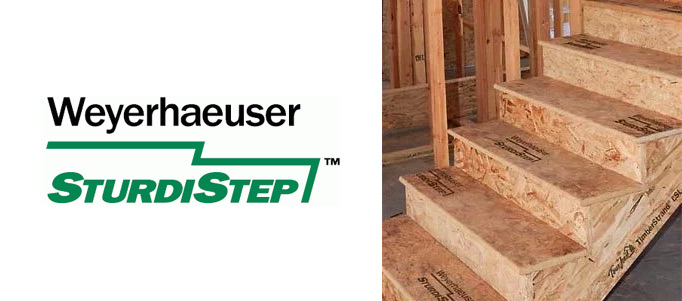 For stairs you can rely on, you can't beat the winning combination of TimberStrand® LSL Stair Stringers and Weyerhaeuser SturdiStep® Stair Treads.
These dependable wood products are engineered for strength and durability. They're so reliable you can install them during the framing stage of your residential or commercial project. SturdiStep is designed to withstand the toughest conditions during construction. These sturdy products are made to take a beating — and to save you labor and money from constructing temporary stair systems.
Like all our TimberStrand products, LSL Stair Stringers are engineered for consistent performance. Our stringers start straight and stay straight. Reliably engineered to have a uniform thickness, TimberStrand LSL Stair Stringers are a fast and accurate way to keep you on schedule.
Marry these quick-installing stringers with SturdiStep Stair Treads and you have a winning jobsite solution. Strong, stable and secure, stair systems built with TimberStrand LSL Stair Stringers and SturdiStep Stair Treads make your life easier.
Our stair treads feature uniformity from piece to piece to assure minimal material waste. Plus, SturdiStep Stair Treads have exceptional nail holding capability plus the ability to resist bowing and splitting. Because both SturdiStep and TimberStrand are created using Weyerhaeuser's strand technology, we are able to produce products that perform under the toughest weather conditions.
Long after you've left the job site, your project owners will appreciate that SturdiStep stair treads last. They're warranted against delamination, cupping and warping. And, our strand technology helps eliminate defects like knots and wane. Shipped with bullnosed edges to reduce your labor, the stair treads come in a variety of convenient sizes.
APA-certified and designed for both residential and multi-family construction, SturdiStep treads are engineered to be uniform throughout. Click HERE to get more details and technical information on the best stair system available that lets you get your construction project completed without missing a step.