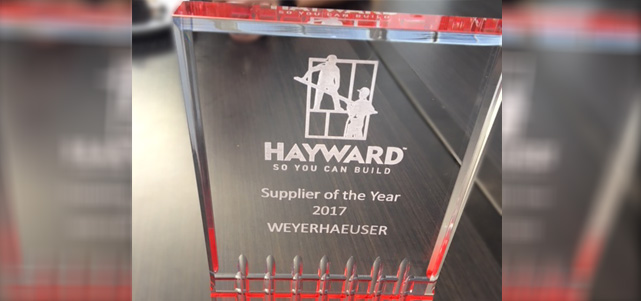 Teamwork, community and caring for the environment are in Weyerhaeuser Distribution's DNA, but having the opportunity to partner with customers who share similar values makes for a winning combination. Recently, the Northern and Southern California distribution businesses were recognized by Hayward Lumber as they received their 2017 Supplier of the Year award.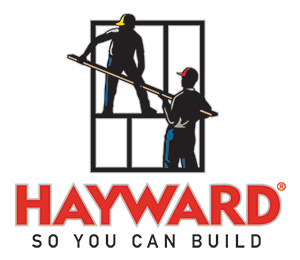 "Being recognized by Hayward is an honor, but seeing how our Northern and Southern California teams continually work together to establish targets and deliver such impressive results is what I'm most proud of," shared Ron Scherber, Distribution Sales Manager for Northern California.
During the awards ceremony, Hayward's leadership spoke of the two companies shared values and appreciation of how the teams work so well together. Weyerhaeuser has been a substantial part of Hayward's business growth over the year.
Referring to the company's financial success, Travis Lund, of Hayward Lumber's Corporate Support said, "There are over $15 million reasons why Weyerhaeuser is Supplier of the Year." Distribution and ELP's support Hayward's Trus Joist engineered wood program allowed Hayward to secure larger scale projects with their builder customers, increasing their profits. In addition, access to Weyerhaeuser's premium lumber products demonstrated Hayward's commitment to quality and in the long-run, saved the business money from fewer customer returns.
Product quality and availability are just a couple of the components that have supported Hayward's growth, but the real magic lays in the personalized support relationship, "Weyerhaeuser's sales people are always eager to help take care of our account with employee training," said Lund. This combined with, "Quicker delivery and special trips to our seven lumberyards and six design centers throughout California really make an impact," shared Lund.
This caring and committed partnership continued into the new year when Weyerhaeuser and Hayward partnered to support victims of Southern California's wildfires and mudslides. "Hayward asked and we responded. That's just way we operate – it's in our culture," shared Steve Spackman, Territory Manager for Northern California.