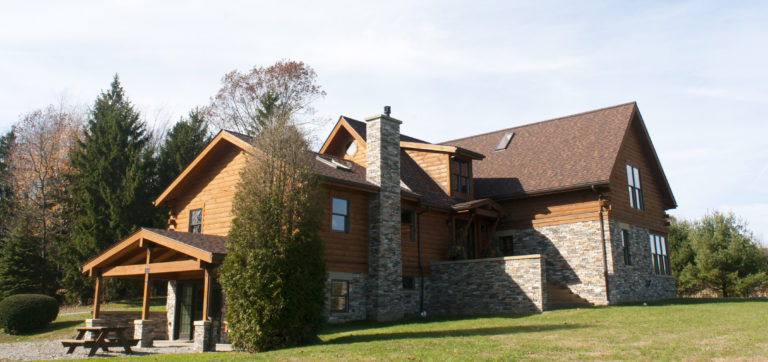 Lee Calisti's customers faced a familiar challenge: growing family, too little space. But for this Pennsylvania couple, moving on wasn't an option. The rustic, log-sided cabin they shared, once a bachelor pad, was home—cozy, personal and authentic. They turned to Calisti to expand the living area without forsaking its character.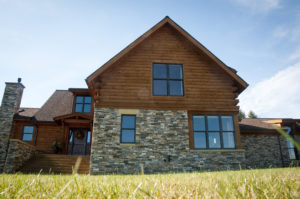 "They didn't just want more space," the architect recalls. "They wanted something special."
The solution was a two-story gable addition, with a contrasting roofline and a handful of composed elements that blended the structures and continued the rustic feel. At the rear of the addition, the kitchen and dining room soar to the top of the gable. In front, the first floor features a new, larger master bedroom with a corner window offering vista views; the daughter's bedroom loft tucks cozily under the eaves upstairs. Balancing out the composition is a new single-story wing housing a laundry room and garage.
Calisti relied on engineered lumber for most of the addition's frame, including crafting the 25-foot end walls with 2×8 Trus Joist® TimberStrand® LSL beams. "To try to do that with dimension lumber would have been cost prohibitive and difficult to build," he says. "We used LSL studs for a flat, straight wall, putting it in place and knowing it was going to be true and straight and strong."
The architect also employed Timberstrand LSL for some of the headers. For the rafters, he specified TJI® joists along with Microllam LVL for the long span of the ridge beam.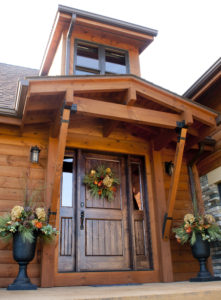 Along with adding more space, the remodel provided an opportunity to correct a major flaw in the original house—the lack of a genuine entry. The new entryway connects old and new, integrated into the existing structure by reconfiguring the original bedroom. Wide front steps complement the scale of the abutting gable addition, while a shed dormer window provides much-needed detail above the entry and brings light into the upstairs. Exposed connections, custom hardware, and an angular overhang complete the look without overdramatizing the facade.
Elsewhere on the exterior, blue fieldstone anchors the house, including the entire first-floor of the gable addition, an atypical application that successfully balances the expansive walls. Log siding completes the look on the upper half and ensures a seamless transition between structures.
The resulting home is one that effectively combines functional space with authenticity and charm. For the homeowners, it's the realization of a dream, a bit of respite brought by collaborative and thoughtful design.
Images courtesy SkySight Photography