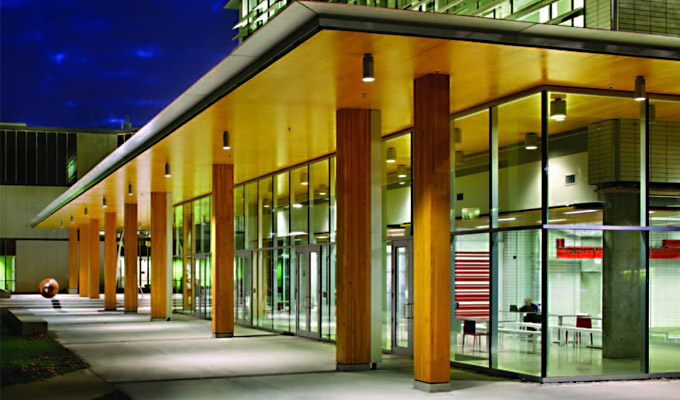 Congratulations to Jana Foit and team at Perkins + Will architects for their British Columbia Wood Design Award in the Institutional Wood Design category! Foit led the team of professionals that designed The University of British Columbia Earth Sciences Building.
The 5-story building with atrium incorporated TimberStrand® LSL panels in 3.50" x 4′ sub-billets in the above ground floors and 1.75" x 4′ sub-billets in the atrium.
The award-winning design firm Equilibrium Engineering was instrumental in combining TimberStrand LSL panels with concrete and insulation to create a composite "hybrid" floor panel. This floor system achieved spans of up to 22 feet, using half the quantity of concrete, saving both weight and time while reducing the carbon footprint of the system.
The building benefited from the use of TimberStrand LSL because of its availability during a tight construction schedule and its structural characteristics.The BC Wood Design Awards is sponsored by Wood WORKS! and recognizes leadership and innovation in wood use.
How has Weyerhaesuer helped your projects win? Tell us about it.