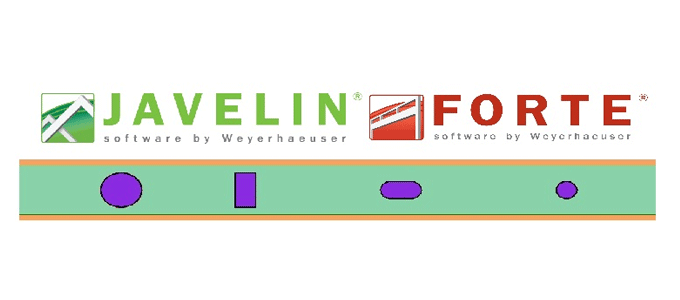 Recent code changes have gone into effect in many different areas of the country. Builders are determining that locating their mechanical systems within conditioned spaces is one of the most efficient ways to accommodate these code changes. This often means mechanical systems such as HVAC, plumbing, and electrical systems must run within the floor system space resulting in the need to analyze many structural members with holes.
To accommodate these changing needs, we have reviewed and revised our analysis methodology to be more flexible for our builders. These changes have been included in our most recent releases of Javelin® and Forte® software.
The following changes have been made to both Javelin and Forte:
→ Number of web holes per span is now based on the hole sizes relative to the joist depth- This means you are no longer limited to just 3 holes per span giving you much more flexibility to run mechanicals as needed.

→ Point loads in the vicinity of web holes are permitted and analyzed- Now you will be able to quickly analyze holes that may have a point load near them without spending your valuable time waiting for engineering support.

→ Web holes analyzed in TJI flush beams- Run these calculations yourself without needing additional engineering support.

→ Slotted (previously 'oval') web hole analysis- Slotted web holes allow for larger mechanical holes due to their smooth edges reducing stress concentration that can happen in overcut rectangular holes. Vertical slotted web holes work great for gradually sloping waste lines!

→ (Forte only) Web holes in the member report turn red when failing shear check- This will allow you to quickly identify which hole is failing.
If you haven't already upgraded to the latest Javelin v5.0.2.14 or Forte v4.1 contact the Weyerhaeuser Software Support desk by calling 1-800-833-9491 or email software@weyerhaeuser.com.