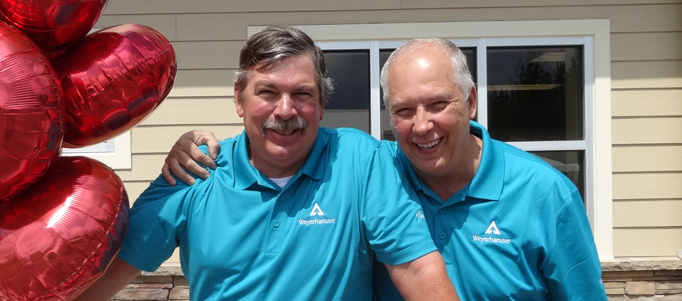 The Weyerhaeuser Distribution Center wasn't the only one celebrating 20 years of service to the Concord, N.C. area on May 4, 2016. Weyerhaeuser employees Gary Pintea and Ron Wise also reached a milestone of 20 years at our building products distribution facility.
"We're very fortunate that two of our valuable employees have been with us since our doors opened back in 1996," says Brad Brubaker, interim general manager at the Concord facility. "These gentlemen have both held a variety of roles at our location for the past two decades. Their dedication to safety, customer service, and excellence helps set us apart in the marketplace."
In and Out Service
On the receiving side of the distribution center's business, Gary Pintea spends his days unloading building products and lumber that arrive at the center from dozens of vendors across the country. The forklift he operates unloads products from rail cars, box cars and numerous truck loads each day.
"I've worn out a few forklifts in my time," says Pintea, a resident of Locust, N.C. "When I started here I never would have dreamed that my forklift would one day have computers on it. Today we're so advanced that the forklifts can read the bar codes on incoming products so we have extremely strong inventory control."
Pintea, who originally worked for McMillan Bloedel and became a Weyerhaeuser employee in 1990, feels fulfilled by his ongoing role at Weyerhaeuser. "I like working for a safety-oriented company and having a packed day," says Pintea. "We're busy with unloading so many incoming loads that the time goes by fast."
Just when Pintea is finished for the day, Ron Wise arrives for work. As a second shift employee, he spends his time loading up trucks with products destined for Weyerhaeuser customers the next day.
"My team helps load trucks each night that are shipped out with others the next day and we make sure the orders are done accurately," says Wise, a resident of Iron Station, N.C. "Safety is always top of mind here. Everyone is aware of safety practices since we're operating forklifts and dealing with large product orders for hundreds of customers."
Wise, who has been with Weyerhaeuser for 28 years, originally started with the company at the Charlotte, N.C. operations. He started at the Concord distribution center on the day it opened in 1996.
"This company has always been a good place to work," says Wise. "The team works well together and the years have flown by for me."