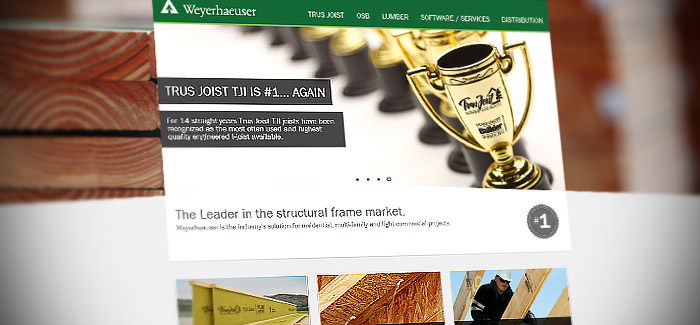 Welcome to the new website for Weyerhaeuser Wood Products. I'm Jonathan Rundle, Electronic Communications Manager. We have added some great new tools and features to the site, so allow me this opportunity to show you around.
[h5-cufon class='bg-none']The Look[/h5-cufon]
Obviously, the site has a whole new look. Immediately we wanted to capture your attention and showcase some of the great products we offer by using photography, rather than relying on words to get our point across. Throughout the site, you'll notice more photos of the products you're looking for.
[h5-cufon class='bg-none']Getting Around[/h5-cufon]
If you were a frequent user of our old site, you might remember that you chose "Roof, Wall or Floor" to find the products you were looking for. With the new design, you are able to view all the products you know and use from any page on the site. By moving your mouse over the links across the top, our products are always there and just one click away.
[h5-cufon class='bg-none']Read our new blogs[/h5-cufon]
Our people are experts in their fields – our support and services are probably a big reason why you've chosen to do business with us. Why keep that fantastic product and industry knowledge locked away? We're excited to announce the new "Word on Wood" Weyerhaeuser blogs. Our bloggers have already posted some interesting content for launch day along with introductions, so you know what to expect from their blog.
I'll be blogging for the Marketing Blog, Steve Harms and Neal Shunk will be your Lumber bloggers, while Chris Brandt and Glyn Boone will be your Tech Talk bloggers.
Subscribe to any of our blogs by filling out the email form to the right, or by adding the RSS feed to your favorite RSS reader. Click any orange RSS button at the top right (
) to subscribe to that blog.
[h5-cufon class='bg-none']Introducing the Document Library[/h5-cufon]
We didn't just make the old site look better, we took the time to find new ways to make the site easier for our visitors. By looking at our analytics, we found that many of you are here to find literature about our products – such as specifier guides, pocket installation guides or warranties. For you, we've built a comprehensive Document Library where you can go to find not only those guides and warranties, but also CAD details, code reports and just about anything else you might need to go along with our products. Try it out here.
[h5-cufon class='bg-none']Our new Where to Buy tool, the "WYfinder"[/h5-cufon]
Another new tool to our website is the "WYfinder." This tool enables you to find Weyerhaeuser products by dealer, distribution center or manufacturing facility nearest to you. The WYfinder finds your location automatically and allows you to select the products you're looking for by choosing one of the radio buttons to filter out irrelevant results. If you want to look up another location, simply enter the city, state, province or zip code in the search box. Try it out here.
[h5-cufon class='bg-none']Finally[/h5-cufon]
Above all, we want our site to be helpful, informative and easy to use. We'll be working on the site to make it even better in the future, and we'll let you know any time we add a new tool here on the marketing blog. If you have feedback or questions about the site, I'd love to hear it. Feel free to contact me directly. Thanks for visiting our site and for choosing Weyerhaeuser.