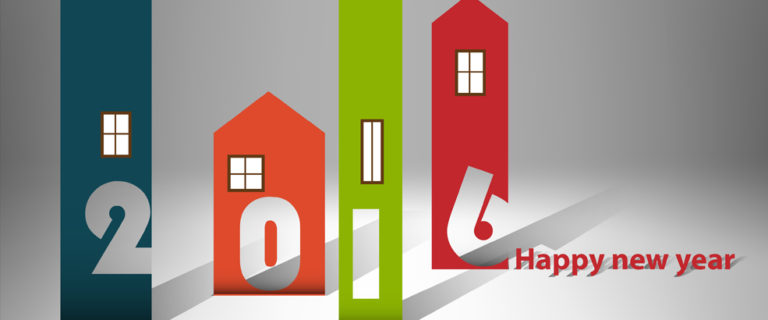 As we stretch our arms and welcome 2016, we want to extend a sincere 'thank you' for everything you did this year. Because of your effort, your support and your commitment, we found success on many levels. And just as importantly, so did your builder customers.
Last year was a good one—for us and our industry.
Improved Markets
The U.S. economic growth is on track—back in the 2.5 to 3 percent range—and indicators reflect a positive outlook for 2016.
U.S. consumer confidence continues to improve, nearing 2006/2007 levels.
Single-family housing starts are recovering, albeit slowly, while multi-family housing starts are doing quite well, and are now at their highest levels since 2003.
Demand for housing is being driven by positive employment growth coupled with mortgage rates at near historic lows. Even as mortgage rates creep up, we expect demand to remain strong.
Expanded Product Lines
Thanks to your hardworking sales teams, we were able to expand our product lines in a number of key markets.
Decking/Railing: Fortress and Railings (Charlotte, Northern California, Phoenix), Gossen Decking (Charlotte, Atlanta); Fairway Railing (Charlotte); Deckorators decking and railing (Southern California)
Cedar: Expanded offering across the distribution centers
Boards/Pattern: Expanded offering across Distribution Centers, including Interfor, JW Jones, Arauco, Plum Creek, CM Maderera
Specialty Wood Accents: Ghost Wood (Easton, Salt Lake City)
Insulation: Ox Engineered Products (Houston, Charlotte, Jacksonville, Phoenix, Richmond)
Siding/Trim: Ply Gem trim and moulding (expanded across the east); Woodtone Trim (Denver); TruGuard siding – Deeptone and Old Mill Shingle Collections (Boise); James Hardie Moulding (Charlotte)
Targeted Investments
We made a number of targeted investments this year to better meet customer needs, including:
Remodeled/moved our Distribution Centers in Stockton, Albany, Dallas and Charlotte/Concord to larger facilities. These expansions allowed us to add product capacity and covered storage areas so products can arrive in good condition.
Upgraded our forklift fleet for improved efficiencies and to minimize product damage.
We're optimistic that success will continue in 2016. We have a solid team in place, innovative product vendors and you – our dealers –committed to supporting your builder customers. Our commitments to you are to provide the best service possible, to continually improve our product line, and to further enhance our quality and technology.
When we wrapped up 2015 and reflected on the year, Weyerhaeuser Distribution would like to extend our sincere thanks for your business. As we move further into 2016, know that you can count on us for quality building products, accurate and on-time delivery, and a wealth of expertise. Together we can meet and exceed your customers' needs, and deliver the right products and support in the New Year.
We wish you a successful and prosperous 2016.