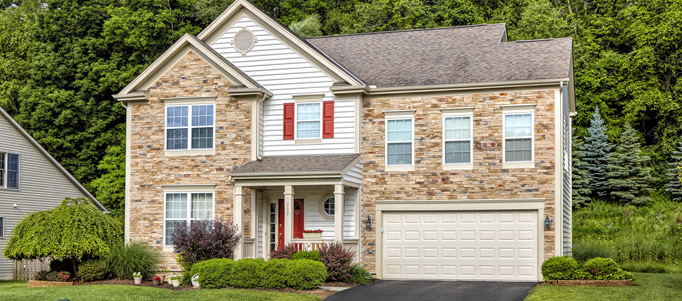 Weyerhaeuser Distribution now offers easy-to-install ClipStone® mortarless stone veneer products through its distribution centers serving the markets of Easton, Pa., Phoenix, Ariz., and four areas of California — Stockton, Fresno, Santa Clarita and Fontana.
ClipStone products feature a unique mounting clip design embedded in the back of each stone. The clips screw directly to the wall, with a lapping down design allowing the stones to fit tightly together in all four directions. Each ClipStone piece is raised slightly off the wall to allow the wall to breathe, providing an excellent drainage plane for exterior applications. Universal corners and accessories are available to complete any project.
Each of the six Weyerhaeuser distribution centers will stock both styles of ClipStone products: ProStack and Ledgestone. Colors available will include Poinset, Sand, Ash and Tan.
"The speed of installation and versatility of the ClipStone mortarless stone veneer products allow builders and contractors to creatively add stone accents to both interior and exterior projects," says David Helmers, vice president for Weyerhaeuser Distribution. "We've seen ClipStone used as impressive showcase walls and on fireplace surrounds. This is an exciting addition to our product offering that we're certain our customers will find appealing."
Backed by a 50-year warranty, ClipStone products require no maintenance, sealing or ongoing cleaning. The stonework can be installed quickly for both interior and exterior projects.
"Working with Weyerhaeuser Distribution allows us to reach dealers, contractors, builders and remodelers who have not previously had the opportunity to purchase ClipStone products," says Chuck Stein, president of Environmental StoneWorks, parent company of ClipStone. "This is a great opportunity for us to enhance our distribution capabilities to reach building industry professionals who are seeking unique and profitable ways to set their projects apart with quality stone applications."
Weyerhaeuser Distribution will be the sole distributor of ClipStone products in California.
For more details on ClipStone, visit www.myclipstone.com. For more information on Weyerhaeuser Distribution, visit www.weyerhaeuser.com/distribution.