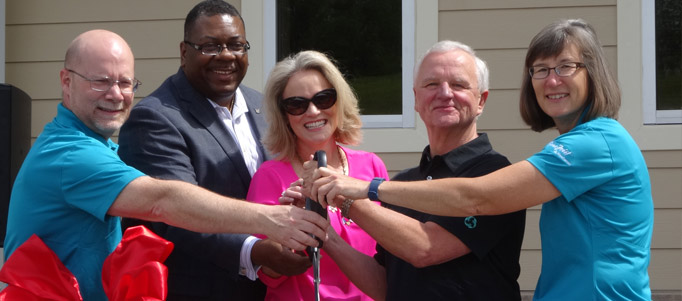 In the picture from left to right: Brad Brubaker, Interim General Manager – Concord Distribution; Clarence Wilkerson, East Division General Manager – Weyerhaeuser Distribution; Barbi Jones, Executive Director, Cabarrus Chamber of Commerce; Mayor J. Scott Padgett. City of Concord; Jan Marrs, Retiring General Manager – Concord Distribution.
On May 4th, the Weyerhaeuser Distribution Center in Concord, N.C. marked 20 years of operation with an event for customers, vendors and associates. A ribbon-cutting ceremony for new office spaces, led by Concord Mayor J. Scott Padgett and community leaders kicked off the day followed by an outdoor event from noon to 4pm.
"This celebration allowed our invited customers throughout North Carolina, South Carolina and Virginia to tour our impressive facility while getting to meet our associates and vendors," says Brad Brubaker, interim area general manager of the facility in Concord. "This was a great event marking two decades of Weyerhaeuser's continuous service to the needs of building industry dealers throughout a widespread area in three states."
For the event, a vendor display area was set up along with a tent for food and raffle prizes. A disc jockey played music from 20 years ago while people participated in putt-putt tournaments and enjoyed traditional Carolina barbeque.
The Concord facility has more than 25,000 products available to its customers in the key building product areas of boards and patterns, cedar, decking/railing, insulation, engineered lumber, metal, panels and siding/trim.
"Our facility sells more than 20 million board feet per year," says Brubaker. "To construct an average home a builder needs 2,000 board feet. That means with all the lumber we sell each year, we could construct 10,000 homes!"