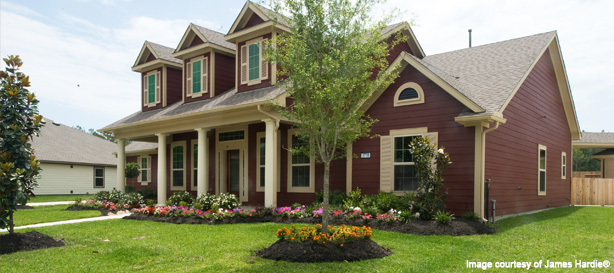 Over the past few months, Weyerhaeuser Distribution has grown product offerings at locations around the country, including adding manufacturers to new regions and dramatically expanding product options and availability. The robust growth in product brands and types provides ample selection for dealers to meet the needs of their builder and remodeler customers and, ultimately, contributes to beautiful, high-performance homes.
Among the recent changes and additions across Weyerhaeuser locations:
• Moulding and boards, Georgia: Weyerhaeuser Atlanta Distribution has added HardieTrim™ moulding products to its product offering. This moulding line is the perfect complement to James Hardie® siding and trim products, creating a timeless, durable, low-maintenance exterior. In addition to the expanded moulding line, the Georgia operation is now offering Interfor 1×6 edge and center bead tongue-and-groove pattern stock, along with 2×6 V-joint roof decking. Raw and primed MDF boards and West Fraser HY-Line Spruce Lumber round out the extensive product offering.
• Trim and columns, Florida: Weyerhaeuser Jacksonville Distribution now offers Ply Gem trim and mouldings; the cellular PVC products, which offer the look of wood without the associated maintenance, are now available from Weyerhaeuser locations throughout the entire East Coast. Also available through Jacksonville distribution to add accent and charm to your next building project are HardieTrim™ moulding products and Cox pressure treated laminated columns.
• Deck railings, North Carolina: Now available to the Carolinas area are iron and aluminum railings from Fortress™ Railing Products and composite and vinyl railings from Fairway® Building Products.
• Deck railings, California: Weyerhaeuser's Fontana and Santa Clarita distribution centers recently added do-it-yourself wood railings from BW Creative Railing Systems. The Western red cedar railings come in pre-measured and pre-drilled kits for simple installation. The Stockton distribution center also expanded its product offering with the addition of Fortress Railing Products and CertainTeed Insulation.
• Siding, Utah: Bitterroot Valley Forest Products is new to the Salt Lake City product offering. These log and timber sidings come in a variety of textures and wood species. Applications include interior, exterior and industrial use.
• Siding and trim, Colorado: The Denver distribution center now stocks James Hardie's HardieTrim® in rough and smooth textures, along with James Hardie's Smooth fiber cement siding line.
• Siding and trim, Illinois: The Naperville distribution center has added Eco-Side™ engineered wood siding and trim from KWP. Offerings include primed siding and trim board. Eco-Side two-coat pre-finished siding and trim comes in 10 colors, from earth tones to rich and vibrant hues.
• Specialty boards, Maryland: Dealers in the Baltimore region now have access to Arauco's FJ Primed Radiata Boards as well as Pine Boards from Plum Creek in Select, Common and Industrial grades.
• Foundation products, Idaho: The Boise market now includes the Homasote 440 SoundBarrier®, a high-density structural board for sound control in floors, walls and ceilings.
For more information, please contact your local Weyerhaeuser Distribution representative.