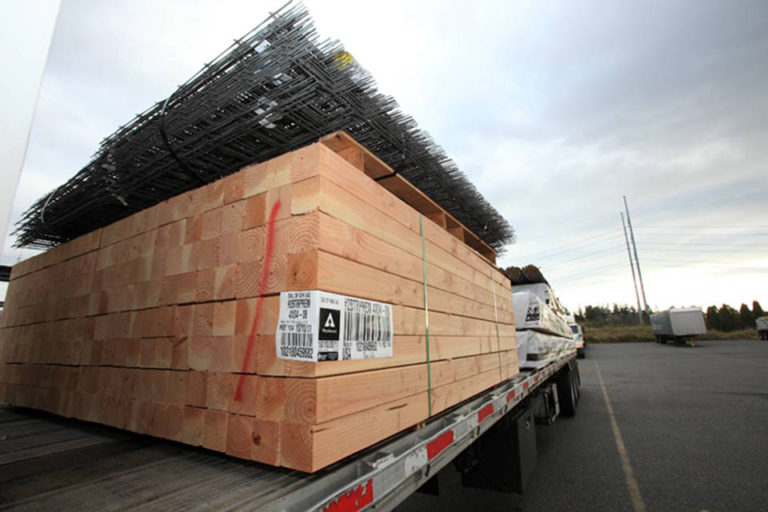 Over the course of the fourth quarter, Weyerhaeuser Distribution's Stockton, Calif., operations will relocate to a new site seven miles away. The move will consolidate two existing facilities, boosting efficiencies and streamlining operations. The new facility also is convenient to major north-south transportation lanes and accommodates up to five box railcars—three more than previously allowed.
The move represents a collaboration between Weyerhaeuser Distribution, LDK Capital, and the San Joaquin Partnership to secure optimal space that will allow the building products distributor to remain within Stockton and preserve the 34 jobs in place there.
"At present, our Northern California operations are split between inside and outside inventory, about a mile apart within the Port of Stockton. Merging into one site will significantly streamline internal operations," said George Perrault, region manager for Weyerhaeuser Distribution. "Plus, by remaining in Stockton, we'll be able to retain existing staff and maintain prime position in Northern California, within easy reach of the Bay Area and the rapidly growing Central Valley."
The new location will provide 150,000 square feet of operational space and 14 acres of storage; formerly a Heinz tomato processing plant, the facility is undergoing a renovation to accommodate the demands of building products distribution, including repaving, a new roof, a new rail spur, and a new fire system.
The San Joaquin Partnership, a nonprofit development organization that assists companies remaining in or moving into the Stockton region, provided logistical support to Weyerhaeuser Distribution, including site due diligence, permitting assistance, incentives analysis, and vendor referrals. "We are thrilled to have been able to help Weyerhaeuser Distribution settle into a new space that will allow it to grow and to continue to be a prominent fixture in our city," said Shelley Burcham, San Joaquin Partnership vice president of client services. She credits Tyson Vallenari, a broker with CBRE, the City of Stockton Economic Development and Community Development Departments, and Pacific Gas & Electric for being part of the team that worked on the relocation.
"Stockton offers a combination of attributes—from proximity of domestic and international hubs to a flexible business atmosphere to a high quality of life—that make it an ideal place to do business," said Mike Ammann, president & CEO of the San Joaquin Partnership.
The relocation will conclude by the end of 2013. During that time, Weyerhaeuser Distribution customers will not see a change in service or supply.