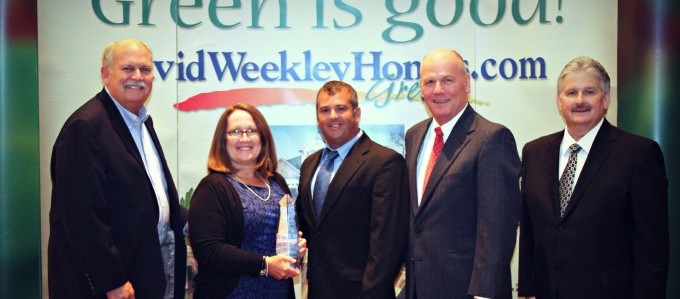 Weyerhaeuser was one of just a handful of manufacturers to earn a double-A rating in David Weekley Homes' prestigious Partners of Choice program for 2013. The annual ranking recognizes the vendors and suppliers achieving the highest levels of quality and service as rated by David Weekley Homes staff.
David Weekley's Partners of Choice is part of an innovative evaluation system that provides vendors and their channel partners with direct performance feedback from every level of the home builder's organization. Over the course of the calendar year, about 600 David Weekley Homes Team Members complete an online survey for each supplier, ranking them on a scale from 1 to 10 for quality and service. Scores are averaged and ranked against the 175 participating companies. Then, through a series of discussions, meetings, and coaching calls, David Weekley Homes and its suppliers search for the best way to achieve excellence together.
The process culminates in companies that maintain an "A" ranking in quality, service, or both receiving David Weekley Homes' "Partners of Choice Award." This year Weyerhaeuser received an "A, A" Award, meaning it earned an "A" ranking in both quality and service.
"Each year, the collective average scores of our vendor partners improve, revealing the true worth of this evaluation program in helping to develop efficiencies, strengthen relationships, and improve bottom-line results," said Bill Justus, vice president of Supply Chain Services at David Weekley Homes. "We know this survey has saved us a considerable amount of time and hassle, while at that same time it has strengthened our award-winning suppliers so they become stronger competitors in the marketplace."
Weyerhaeuser has received an A, A rating, a rare achievement, five times in the past six years. "Weyerhaeuser prides itself on partnering with builder customers to provide innovative, top-quality products with an exceptional level of service, and we're continually working to ensure the highest levels of customer satisfaction," said Shelly Jackson, national accounts manager for Weyerhaeuser. "This award from David Weekley Homes is a testament to that commitment, and we're proud of our team for its accomplishment and for the relationships it signifies."
For more information, visit www.davidweekleyhomes.com.
Pictured: Weyerhaeuser's Shelly Jackson and Damon Horton (second and third from left) accept the Parter of Choice award from David Weekley Homes.