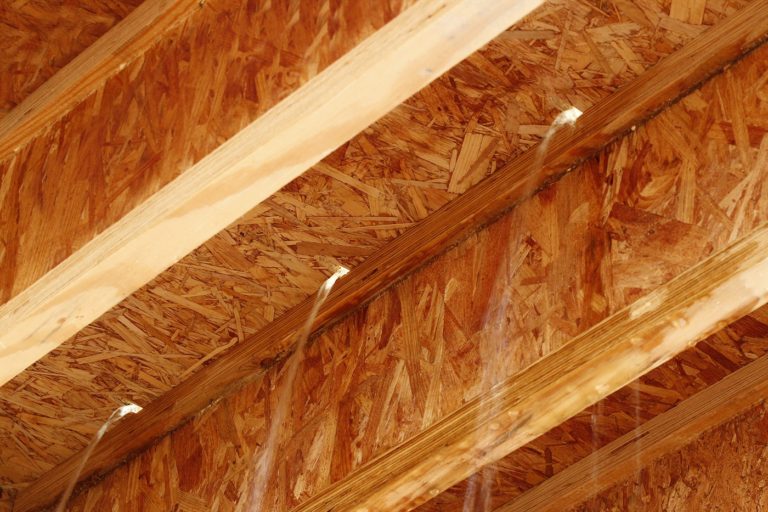 New Down Pore™ self-draining technology removes standing water during construction
Federal Way, Wash., January 11, 2012 – Weyerhaeuser has added another feature to its premium Edge Gold™ flooring panels to further enhance the panels' resistance to rain and moisture. The company's new proprietary Down Pore™ self-draining technology channels water from the panels' surfaces and drains it off the joists below. Along with Weyerhaeuser's high-performance edge seal, this helps reduce construction delays for contractors during inclement weather.
The patent-pending Down Pore self-draining technology consists of three specially shaped drainage grooves on one of the narrow ends of each 4′ by 8′ panel. The unique design resists clogging from sawdust or adhesive, and allows water to drain even if the panels are not properly gapped.
Preventing standing water reduces water absorption and helps maintain the floor system's integrity."The new Down Pore technology removes the need to sweep pooled rainwater off the floor or drill holes to let it through," said Bob Olson, Engineering & Technical Director for Weyerhaeuser OSB.
"Our new self-draining panel design removes water quickly, reducing the drying time needed before installing finishing materials. That can save several days or more during construction. Plus, our proprietary edge sealant also saves builders time and money since they do not need to sand panel edges to achieve a smooth surface. We guarantee it. "Other recent enhancements to Edge Gold panels include a proprietary edge seal formulation that significantly reduces edge swell, and extension of Weyerhaeuser's "no sand" guarantee for the
panels from 90 days to 200 days. The no sand guarantee assures builders that the panels offer superior resistance to edge swell for more than six months of weather exposure during construction.
As an assurance of long-term performance, Weyerhaeuser also provides a 50-year limited warranty. Edge Gold panels install flat and remain flat, providing a quality floor, improving customer satisfaction and helping reduce callbacks. Builders have used Weyerhaeuser Edge Gold flooring panels in residential, multi-family and light commercial projects for more than 15 years. Other features that help simplify construction include:
Tongue-and-groove edges for a self-gapping fit
Touch sanded face for a uniform thickness
Pre-printed templates for accurate fastener placement
Delivery of panels working-side-up for easy installation
Edge Gold panels are part of Weyerhaeuser's comprehensive offerings for better-performing floors. Additional products include Trus Joist® TJI® Joists, TimberStrand® LSL rim board and Weyerhaeuser Premium® Joists. To help builders balance floor performance and cost, TJ-Pro™ Ratings predict how users will perceive the finished floor. The ratings allow for ready analysis of alternate materials and layouts to better target the floor performance to its intended use before construction begins.
View a video showing Weyerhaeuser Down Pore technology in action.