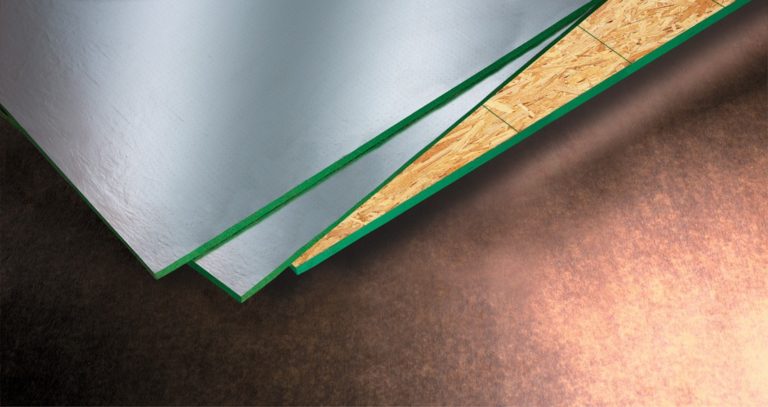 Addition of RBS manufacturing at Hudson Bay, Saskatchewan, OSB mill adds to availability in Southwest U.S. markets.
Federal Way, Wash., July 16, 2012 – This summer, Weyerhaeuser begins producing energy-efficient radiant barrier sheathing (RBS) at its oriented strand board (OSB) mill in Hudson Bay, Saskatchewan. The added manufacturing capacity will supplement the company's current RBS production in Arcadia, Louisiana, and help meet demand for the product in California, Arizona and Nevada. Weyerhaeuser RBS is foil-laminated OSB roof sheathing that helps lower home energy use by reflecting 97 percent of the sun's radiant energy. The panels offer an efficient and cost-effective way to help keep homes cool and comfortable while reducing energy bills.
"To minimize energy use and costs in sunny climates such as the American southwest, it's crucial to use building materials that keep heat out," said Stewart Lavigne, Director of Marketing and Sales for Weyerhaeuser OSB. "Weyerhaeuser RBS provides builders with a simple-to-use way to help homes stay cool even under harsh sun. Homeowners don't need to run their air conditioners as much, so they save money and reduce their environmental impact."
Unlike standard roof sheathing that allows solar energy to pass through and create heat build-up in attics, Weyerhaeuser RBS reflects energy away from the roof, lowering attic temperatures and the subsequent transfer of heat to living spaces. Less energy is needed to cool the home, helping reduce costs for homeowners and helping lower greenhouse gas emissions related to energy usage.
In addition to providing their homebuyer customers a way to save money on energy, builders value Weyerhaeuser RBS for its quality, consistency and ease of installation. The panels are engineered to remain flat and resist buckling, cupping, warping and sagging to provide a smooth roof and reduce the risk of costly and time consuming call-backs. Weyerhaeuser RBS installs similar to other roof panels and does not require additional tools, labor or materials. For work crew safety, the panels have a textured surface to enhance traction.
In a "Seize the Silver" promotion this summer, Weyerhaeuser is offering builders $1.00 cash back per RBS panel (up to 100 panels) for qualifying purchases. Building material dealers also can earn rebates of $0.25 per panel, up to $100 total. Purchases made from May 1 to September 30, 2012, by users who have not purchased the product in the last 6 months, are eligible. Visit http://www.woodbywy.com/silver for complete details and limitations.