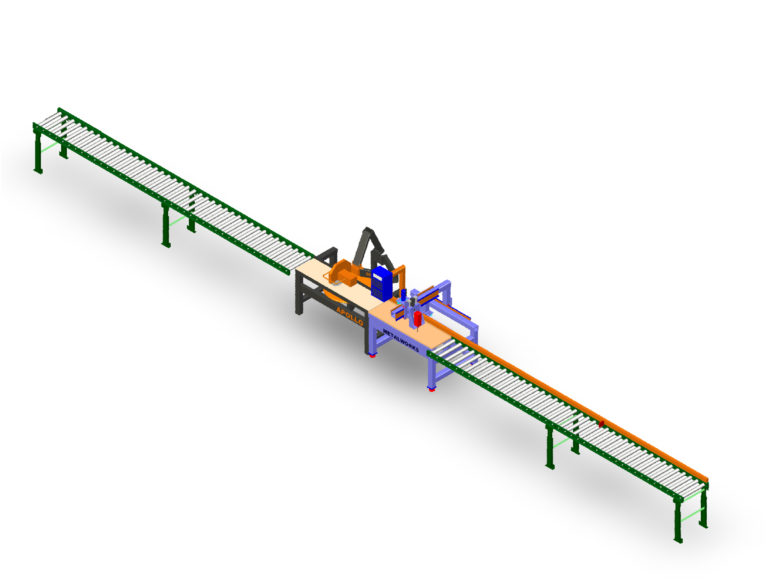 Weyerhaeuser has added a fourth saw option—EasyPackTM—to its line of NextPhase® Site Solutions, a comprehensive package combining Trus Joist® products, services, software and fabrication equipment to optimize component manufacturing for LBM dealers.
NextPhase Site Solutions combines Trus Joist products with proprietary Stellar® software and computerized saw technology to provide precision-cut JobPack® framing packages. Implementing NextPhase concepts into yard operations helps reduce product waste, human error and product damage, while improving efficiencies and saving time.
An EasyPack saw is an ideal entry point into manufacturing optimization and inventory control for smaller, single-location yards handling up to a million feet of capacity annually (about 500-1,000 housing starts). The system allows for square-cut precision end trimming and centered hole cutting in TJI® joists, allowing dealers to easily produce high-quality, accurate floor or roof framing packages and differentiate their operations. The software-driven cutting also reduces time and material waste.
"Since the introduction of NextPhase Site Solutions, dealers around the country have been able to eliminate redundancies, optimize cuts, increase capacity and serve builder customers more efficiently," said Bill Parsons, customer technology and training manager for Weyerhaeuser. "With the introduction of the EasyPack saw, we're extending those benefits to smaller yards that may not have the capacity or the volume to require a larger investment."
The existing NextPhase saw options—EntryMaxTM, CrewMaxTM and VolumeMaxTM—deliver capabilities for precision end trimming of TJI joists, Microllam® LVL, Parallam® PSL and TimberStrand®LSL; adjustable hole cutting; job labeling; intersection marks; bevel and angle cuts; roof rafter cuts; floor panelization lifting holes; and stair stringers. EntryMax offers entry into these capabilities with up to 2.25 million feet per year; CrewMax has a capacity of 2.75 million feet per year and integrates in-feed automation to reduce crew size; and Volume Max adds out-feed automation and fully maximizes the capacity of the saw to 3.75 million feet per year.
For more information, visit www.woodbywy.com/nextphase.