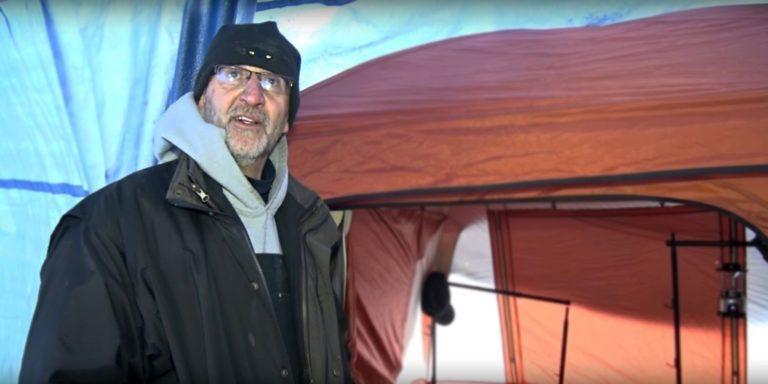 Michael Sekely is the kind of guy who "practices what he preaches."
As Director of Sales Operations for Weyerhaeuser Distribution out of Michigan, Michael champions our Distribution Innovation Program on a daily basis, encouraging Weyerhaeuser employees to think "outside of the box" to create improvements at our operations. Now we're learning that he's also an innovator when it comes to his personal travel adventures.
For the past 20 years Michael has joined a small group of friends for winter camping in northern Michigan. The team travels on snowmobiles and makes camp for a week next to the Baltimore River and a frozen waterfall where they use tarps to create a shelter that helps protect them from sub-zero temperatures.
One of Michael's innovative contributions to the frigid adventure is a unique barrel top that gets placed over the fire each night to assure the ashes stay glowing. They even put a pot of water on top of the barrel cover to assure hot water for coffee in the morning. Another innovation is how the tarps are secured around sleeping cots (which feature -20 degree features and are topped with wool blankets).
"We've positioned this area so that the heat from the fire can travel into this area and help keep us warm on even the coldest of nights," says Sekely. "I double up on sleeping bags inside this tarped shelter which keeps the wind out. Even when the temperatures dip well below zero we're protected from the elements.
"Life is all about innovations — on the job, at home and while on adventures with friends. Applying your skills to different situations allows you to create winning achievements. I'm fortunate that I get to use my 'out of the box thinking' at Weyerhaeuser and at these annual winter retreats!"
You can see the rugged winter conditions Sekely and his friends face on a short "Discovering" video online at http://www.906outdoors.com/906outdoors/videos/S232.html.