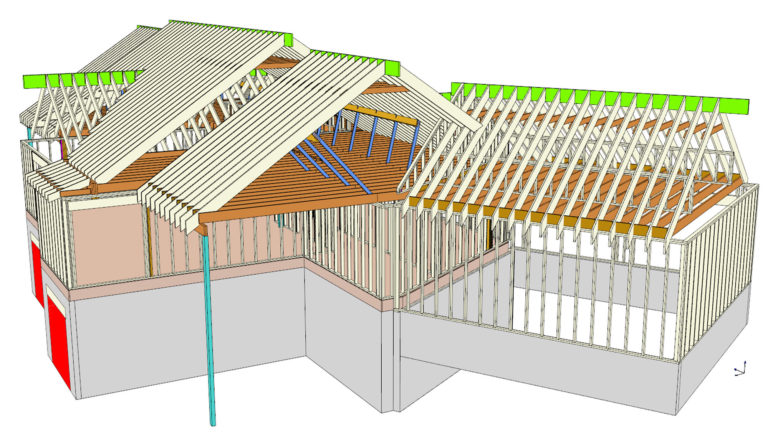 Weyerhaeuser has launched the newest version of Javelin® structural frame software. Javelin is a premier software tool that allows lumber and building material dealers to build a complete 3-D model of a home's structural frame, with capabilities ranging from simple material takeoffs to specific details on every member in the structure. The program's modeling capabilities, material list generation, and sharing options help increase accuracy from design to jobsite, reduce installation errors, and improve collaboration.
Javelin 5.0 builds on the proven functionality of the Javelin program with additional features designed to further enhance and streamline operations. Among Javelin's latest enhancements:
• Functionality for compression roof systems: Along with existing capabilities for structural roof systems and truss roof systems, Javelin 5.0 includes new entity types that can be modeled to address the unique ways that compression roof systems transfer loads. Load tracking for compression roofs is often limited due to the roofs' unique load paths; Javelin 5.0 offers the simplest solution of any 3-D BIM software, eliminating manual calculations and helping dealers more quickly meet the needs of more builders, particularly in the eastern and southern regions of the U.S.
• Material list editing: As with previous versions, Javelin creates layout material lists as the user adds framing members to the model; with this release, users can now manually update those lists to modify quantities, add or exclude materials, or create separate lists. For example, dealers can remove items that the yard doesn't sell, add accessory items (such as glue or fasteners) that aren't addressed in Javelin, or reorganize the list per a builder's preference.
• Product additions/updates: Javelin 5.0 includes Trus Joist®'s newest product—TJI® joists with Flak JacketTM protection—along with updates including the latest Southern pine design value changes per SPIB.
• Measurement in 3-D view: Users can quickly measure lengths while in 3-D view by simply clicking on the start and snapping to the end point of the measurement. This feature is handy for quick verification of rough openings, roof heights, and more.
• Improved level notes: Users have more flexibility with the amount of information in the notes for each level of the model, improving readability and providing the user more control over what information is included.
• Enhancements to TJI hole analysis: Javelin 5.0 users will find a greater number of options for hole placement—both in number and in location—in TJI joist webs. These updates allow more flexibility for placement of HVAC, plumbing, and wiring within the floor system.
Javelin 5.0 launched May 29. Existing Javelin users will be contacted automatically for a free download; new users should contact Weyerhaeuser for pricing and availability. For more information, click here.