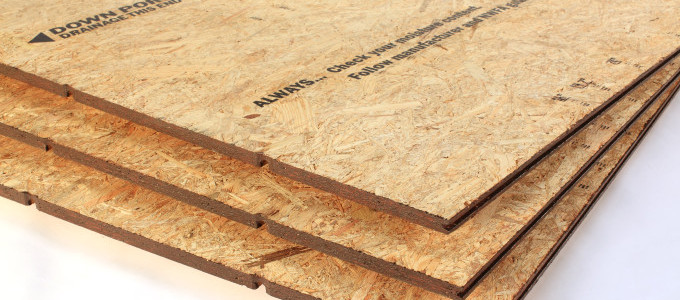 Innovative new products, a growing sales team, and a strengthening market are providing a strong boost for Weyerhaeuser's OSB business this summer and fall. Customers will experience even more benefits in the form of exciting promos, continued product improvements and innovations, and more on-the-ground support.
Expanding Field Presence
Builders and dealers can expect to see more OSB expertise in the field, as Weyerhaeuser expands its market development staff to promote the company's value-added services and provide hands-on support, including training, promotion assistance, claims assistance, product education, and more.
As part of those efforts, the OSB team recently welcomed back Jody Dedmon as market development manager. Dedmon has been with Weyerhaeuser for more than 25 years, 17 of those within the OSB business, and will lead a field staff of market development representatives.
"Selling is more than just sales at the mill. We're getting face-to-face with customers, giving them the tools to specify, sell, and install our products accurately, efficiently, and effectively," Dedmon says. "Weyerhaeuser OSB has always strived to be more than a commodity, and that is reflected in our value-added products such as Edge Gold® with Down PoreTM and in the extent of our services including product innovations, training, and marketing support. Delivering the right product at the right time with knowledgeable OSB field support is how we will continue to grow not only our own brand but also that of our customers."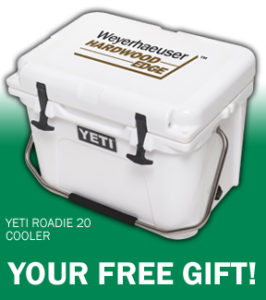 Great Deals
This fall, builders can take advantage of two lucrative product promotions when they try and buy Edge Gold and Hardwood EdgeTM OSB panels.
First-time customers of Edge Gold OSB can try out the flooring's new Down Pore self-draining feature and receive up to $300 back. Builders receive $3 per sheet of 7/8" and 11/8" Edge Gold flooring, for the first 100 sheets ($1.50 per sheet for 23/32" ). To get more details and download rebate forms, click here.
If you operate in the Mid-Atlantic region, there's no better time to start installing new Hardwood Edge flooring, which is the first flooring panel specifically designed for use under hardwood floors in moisture-prone climates. Builders can receive a free YETI Roadie cooler ($230 value) for every 200 sheets they buy. Dealers can get in on the action too: Participate in the promo for opportunities to receive panel discounts. Rebate forms are available here.
Hardwood Edge Takes Off in Mid-Atlantic
Along with attractive incentives, Hardwood Edge is capturing builders' attention for how it answers the challenges of hardwood flooring. The self-gapping tongue and groove fits together easily, and a proprietary edge seal and patented Down Pore® drainage technology get water off the panel fast, minimizing the effects of rain. And that means hardwood flooring stays in place and doesn't squeak. Hardwood Edge flooring is backed by a 65-year limited product warranty and a 365-day limited no-sand guarantee.
To learn more about the benefits of Hardwood Edge, contact your sales representative or click here.