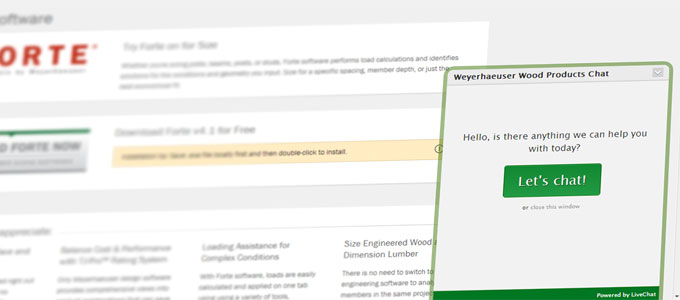 Weyerhaeuser Software Support has launched its new Live Chat capability! Now visitors to any software page within the woodbywy.com website will see a window to chat live with a real software support operator. This is a new, convenient way to ask a quick question or get technical help with any of our software tools.
To use Live Chat, simply visit any software page. You will see a "Chat Now" icon in the lower right-hand corner of the browser. After telling us who and where you are, you will be connected to one of our software support operators to help address your question(s).
Support operators are standing by during our regular business hours to chat with you. Launch Live Chat with us anytime from 8am-7pm EST. Outside of these normal business hours, you will be able to leave a message through the same Live Chat icon. Your message will be answered the next business day.
By providing Live Chat to our visitors, we are hoping to elevate the customer service experience to a whole new level. Now when you need our assistance, we'll always be just a chat away.
Come Chat with us! Click here to try it out!