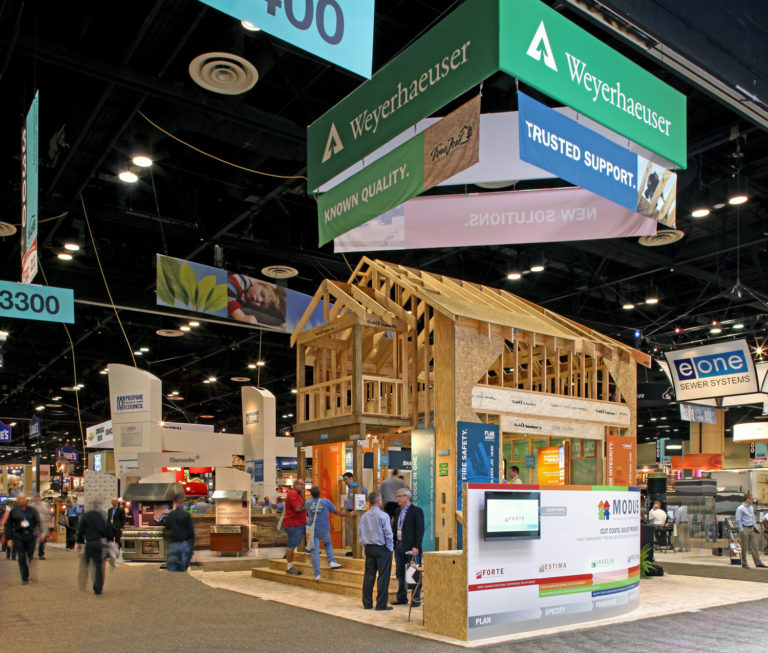 Federal Way, Wash., Jan. 15, 2013 – Weyerhaeuser will share its seamless building solutions with builders, remodelers, and architects during the 2013 International Builders' Show January 22-24 in Las Vegas. Along with information and details on its extensive selection of Weyerhaeuser lumber, OSB and Trus Joist® engineered wood products, the company will introduce its innovative new website, provide software demos, offer several giveaways and donate up to $10,000 to HomeAid. Among the highlights at Booth C5030:
Social Media Advice: Social media marketing expert Mollie Elkman and her team from Group Two Advertising will provide in-person, on-the-spot evaluations of builders' social media presence and offer one-on-one advice for boosting traffic and increasing engagement. Plus, companies that undergo an evaluation will be entered to win an iPad mini. This free service will be offered Tuesday and Wednesday from 10 a.m. to noon and 2-4 p.m. Attendees can stop by or email melkman@grouptwo.com to sign up in advance.
Socks for a Cause: To acknowledge Weyerhaeuser's efforts to be its customers' "feet on the street," the company will give away free pairs of sport socks. Even better—for every attendee who tries on a pair during the show and shows them off in our booth or via social media, Weyerhaeuser will donate $50 to HomeAid, a nonprofit that builds dignified housing where homeless families and children can rebuild their lives (up to $10,000 total donation).
New Website: Visitors can take a tour of Weyerhaeuser's new website, which is easy to navigate and full of helpful information–from an expansive technical library to expert blogs and how-to advice. And be sure to try out the new dealer locator.
Innovative Products:

Trus Joist® TJI® joists with Flak JacketTM protection: A proprietary fire protection solution helps meet code requirements for both single-family and multi-family homes.
Edge GoldTM OSB floor panels: Edge Gold panels with Down PoreTM self-draining technology and proprietary edge seal come with a 200-day no-sand guarantee.
Radiant Barrier Sheathing: Attendees will learn how radiant barriers can cut homebuyers' energy bills.
Tough-Tested Lumber: See how Weyerhaeuser scientists smash, bend, and pull apart lumber to make a better stick of wood.
Trus Joist Parallam® Plus PSL Beams: With Wolmanized® preservative protection, this structural member is ideal for decks and other exterior applications and is now available in the west.
For additional details, visit Weyerhaeuser's IBS 2013 website, www.woodbywy.com/IBS.