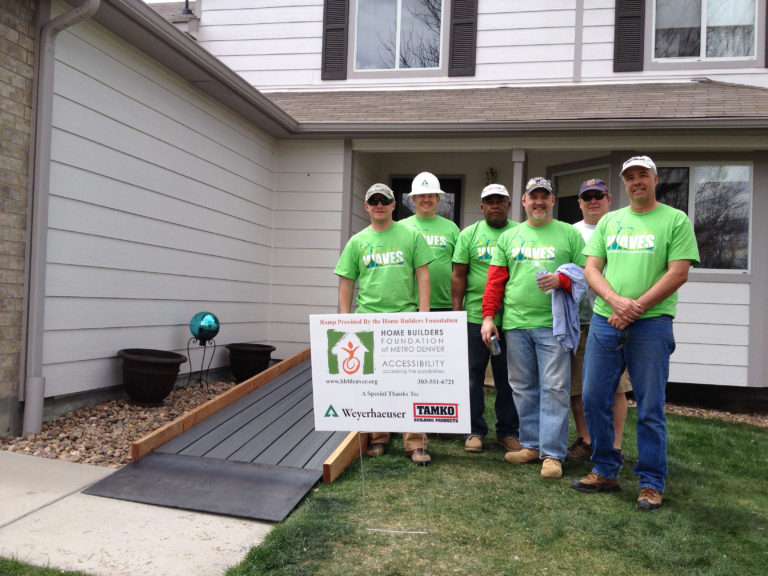 On April 26, six Weyerhaeuser employees from the Denver Distribution Center worked with the Home Builders Foundation, local dealer customer ProBuild and vendor TAMKO Building Products to rebuild a wheelchair ramp for a homeowner, helping to improve her accessibility and safety.
The homeowner relies on a wheelchair to get around following a car accident in the early 2000s. Prior to the rebuild, the ramp to her rental house was a bit makeshift—with untreated materials that were starting to rot, slippery surfacing and a pitch that was steeper than code.
The Weyerhaeuser employees—Keith Keegan, Craig White, Bobby Benton, Jill Jones, Brad Gabriel and Ross Theilen—worked with team captain Brent Guetz, sales manager at ProBuild's Littleton, Colo., location, to deconstruct the existing ramp. The team then rebuilt the ramp the same day using EverGrain Envision composite decking, donated by TAMKO.
A Denver-area nonprofit, the Home Builders Foundation (HBF) partners with the home building industry to provide accessible home modifications at no cost for individuals with physical disabilities and financial need.
"You really see the impact on a project-by-project basis," says Theilen, area general manager, of his work with HBF. "They identify people who have the need but don't have the resources and match them up with building industry members who have the talent and local suppliers who contribute materials."
Additional HBF teams retrofitted other areas of the house, as well, including adding a lift for the interior stairway and remodeling the master bath and shower to make them wheelchair-accessible.
Along with the opportunity to give back, projects such as this are a bonding experience for Weyerhaeuser Distribution staff, says Theilen. "It was definitely a nice opportunity to spend time with co-workers outside the office," he notes. "You really get to know people better."