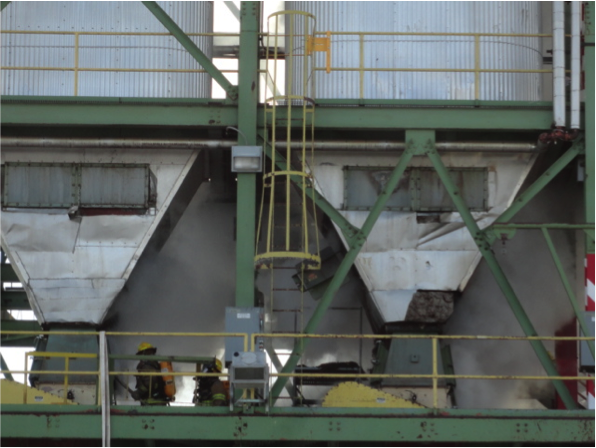 Safety is always top of mind across all Weyerhaeuser operations. This month, the company's OSB mill in Grayling, Mich., received special recognition for its efforts, earning a coveted Safety Innovation Award from APA – The Engineered Wood Association in the association's annual recognition program.
The mill received the Equipment Based Safety Innovation Award for its "Fire Hose Nozzle," a device that makes it safer and easier for employees and first responders to extinguish fires in the drying system.
During OSB manufacture, the dryer circulates the strands using heat and air to dry the wood to 2 to 3 percent moisture content. As a part of the process, fires occasionally occur when upset conditions exist and then automatically suppressed by the system itself. Occasionally, however, if there is a power outage the fires must to be manual extinguished, which required site fire brigade members or fire department responders to hold a hose into the hot, smoky machine via a chimney-like hatch. And if it happened during the brutal Michigan winters, the process was also cold and uncomfortable, and could potentially create slip-and-fall hazards.
Ken Ruby, part of Grayling's maintenance services team and a volunteer firefighter, had an idea for a system in which the hose nozzle could be secured onto the hatch. Ruby and fellow maintenance services crewmember Mike Kuzimski worked together to develop a working prototype of the hatch nozzle. The fire hose can be attached to the device and is kept inside the duct then extinguishes the fire on its own. No longer do employees need to stand near the hatch, wrestle with the hose and get sprayed by the water.
"We wanted to find a way to mitigate the hazards, keep water where it needs to be and keep people dry," says Kuzimski.
In addition to the device, the mill also has implemented operational improvements to reduce power outages and tightened procedures for maintenance and monitoring, both of which have reduced the need for the device overall. In fact, since it was installed in 2013, the hatch nozzle has only been used once. "Through monitoring and controls, we were able to run safely all last winter without a fire," Kuzimski notes.
In addition to Grayling's award, Weyerhaeuser's Simsboro, La., OSB mill was recognized by APA as a member of the "Incident Free Honor Society," recording zero injuries in 2014.