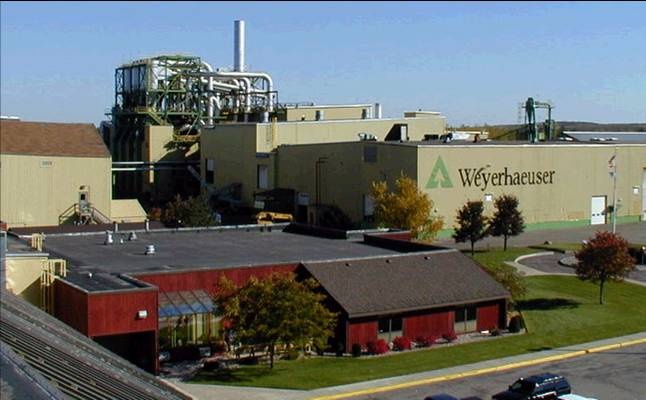 Michigan mill's production of Weyerhaeuser Edge™ flooring panels and sheathing products remains strong after three decades
Grayling, Mich., August 20, 2012 – For the past 30 years, Weyerhaeuser's oriented strand board (OSB) mill in Grayling, Michigan, has been producing Weyerhaeuser flooring panels and sheathing products to help builders and remodelers construct high performance homes. In recognition of the 30-year landmark achievement, the facility will host a series of celebration dinners for its employees the week of August 20th.
The Grayling facility opened in 1982 as Weyerhaeuser's first OSB mill—at that time, one of only a few in North America. Today, over 100 employees work with local suppliers and contractors to produce high-qualityWeyerhaeuser Edge™ flooring panels and OSB sheathing at low cost. All output from the mill is sustainably produced and SFI®-certified.
Over the past three decades, the Grayling mill has been an active member of the community, has received honors such as the United Way 'Spirit of Michigan' award, and has been designated a Michigan DEQ Clean Corporate Citizen. Employees of the Grayling mill sponsor Relay for Life, participate in Big Brother/Big Sister programs, lead river clean-up efforts and forestry education events, are volunteer fire fighters and give their time as support staff for the annual AuSable River International Canoe Marathon.
"Reaching the 30-year milestone is no small achievement," said Rina Allen, Grayling mill manager. "We credit this accomplishment in part to our participative work system, which has led to a high-level of employee engagement and ownership. Not many mills at their 30th anniversary can say that 65 percent of their employees have 20 plus years of service. We can. We're extremely proud of our employees and the commitment they show to the mill and surrounding community."
Weyerhaeuser Edge™ flooring panels are engineered for consistency to help builders construct flat and stable floors in homes. With self-gapping tongue-and-groove edges, installation is fast and easy. Edge flooring comes with a limited 25-year structural warranty against panel delamination. Weyerhaeuser wall and roof sheathing products are engineered to protect against buckling, cupping, warping and sagging to help ensure a structural system that is strong and will hold up over time.