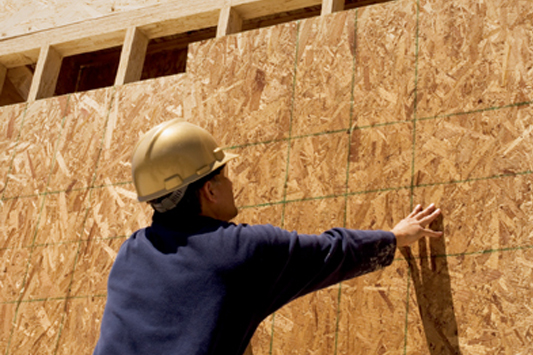 TAKING PANEL STRENGTH IN A NEW DIRECTION
Weyerhaeuser may be known for engineering the best floor panels with our legendary Edge Gold™ and new Diamond™ floor panels, but we also take pride in manufacturing builder preferred panels like our Weyerhaeuser 9' x 4' Wall Sheathing. Our 9' x 4' OSB Wall Sheathing can be designed into projects like regular 4' x 9', but we manufacture this panel with the strength axis running in the 4' direction enabling builders to turn the panels vertically and maximize the strength across the studs as if it was being installed horizontally. Weyerhaeuser 9' x 4' OSB Wall Sheathing is another example of how we use our investment in engineering and science to help make the builder's job easier...
THE WEYERHAEUSER OSB ADVANTAGE
Using Weyerhaeuser OSB results in a better product performance and a stronger reputation that will keep people coming to you. Weyerhaeuser 9' x 4' Panels have vertical nail lines at 16" and 24" centers which speeds up the installation process which means less cutting. Weyerhaeuser OSB sheathing carries the trademark of APA, a trademark which appears only on products manufactured by APA members mills. This is your assurance that the product performs to the standard of APA. Along with a limited 20 -year warranty against delamination. Weyerhaeuser OSB 9' x 4' is backed by the company's reputation of over 100 years in the industry. Think 9' on your next framing job.
DOCUMENT LIBRARY
For more info on Weyerhaeuser 9' x 4', visit our document library.