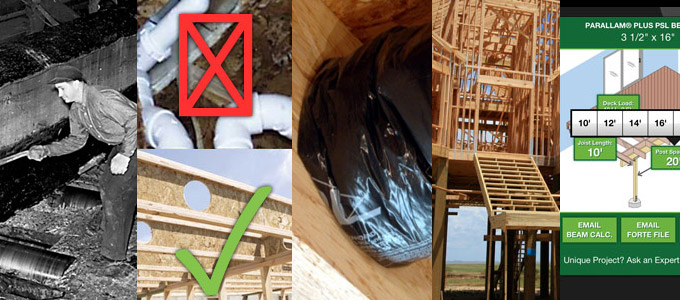 This year brought a new website and new blogs to the Weyerhaeuser website. We hope you've enjoyed reading them and we hope you'll continue reading in 2014. As this year winds down, we thought we'd take a look back at the most popular blog posts of 2013. Do you have a topic you'd like to see covered on our blog? Let us know in the comments.
Punching holes in wooden beams can be a tricky undertaking. Weyerhaeuser's engineers researched and summarized new round hole capabilities for Trus Joist beams. Learn about their findings and follow the guidelines in this blog post.
This beautiful home in New Hampshire uses a 28-foot-long Trus Joist Parallam PSL beam to create an open layout. See photos and read more about the project in our #9 post of the year.
Preparing for the next super storm is serious business. In this tech talk article from August, Robert Kuserk, P.E. leads us through some considerations when building in hurricane-prone regions.
Back in April, our Parallam Plus Deck Beam Sizer app for iOS and Android was given a few improvements. If you're thinking of using Parallam Plus for a deck project, try out this app. Follow the link to learn more.
Weyerhaeuser engineer Jason Shumaker has documented a few common field issues that are easily avoided. Are you or your crew making these mistakes? Read this post to prevent problems.
The present giving season has passed, but that doesn't mean we can't appreciate these great wood-themed gifts. From bow ties to high quality hatchets these are gifts the wood aficionado in your life will love.
Don't let this pre-war photo fool you – today's sawmills are impressive, modern manufacturing facilities. Don't scroll down too far in this post if you haven't yet guessed the year of this archival photo.
Weyerhaeuser manufactures a wide variety of Trus Joist Engineered Wood Products that are used for rim board applications. It can get quite confusing deciding which one to use with all the thicknesses available. Read as Weyerhaeuser engineer Jim Anderson explains each one.
Weyerhaeuser Engineer Glyn Boone led a group of Weyerhaeuser volunteers to Haiti to help rebuild after that country's devastating earthquake. Follow along through photos, diagrams and a time-lapse video in this popular blog post.
Our readers were clearly in the spirit to see and share this viral video. Posted last week this blog post was shared many times over making this our top post of 2013.