Safety
Nothing is more important than making safe choices
SAFE TO THE CORE
Safety is a core value at Weyerhaeuser. We believe that all incidents are preventable and that working injury-free is possible.
Because the work we do carries risk, all our facilities and operations use proven tools and systems to identify hazards, mitigate risk, learn from incidents and inspire our people to always make the safe choice - every task, every time.
---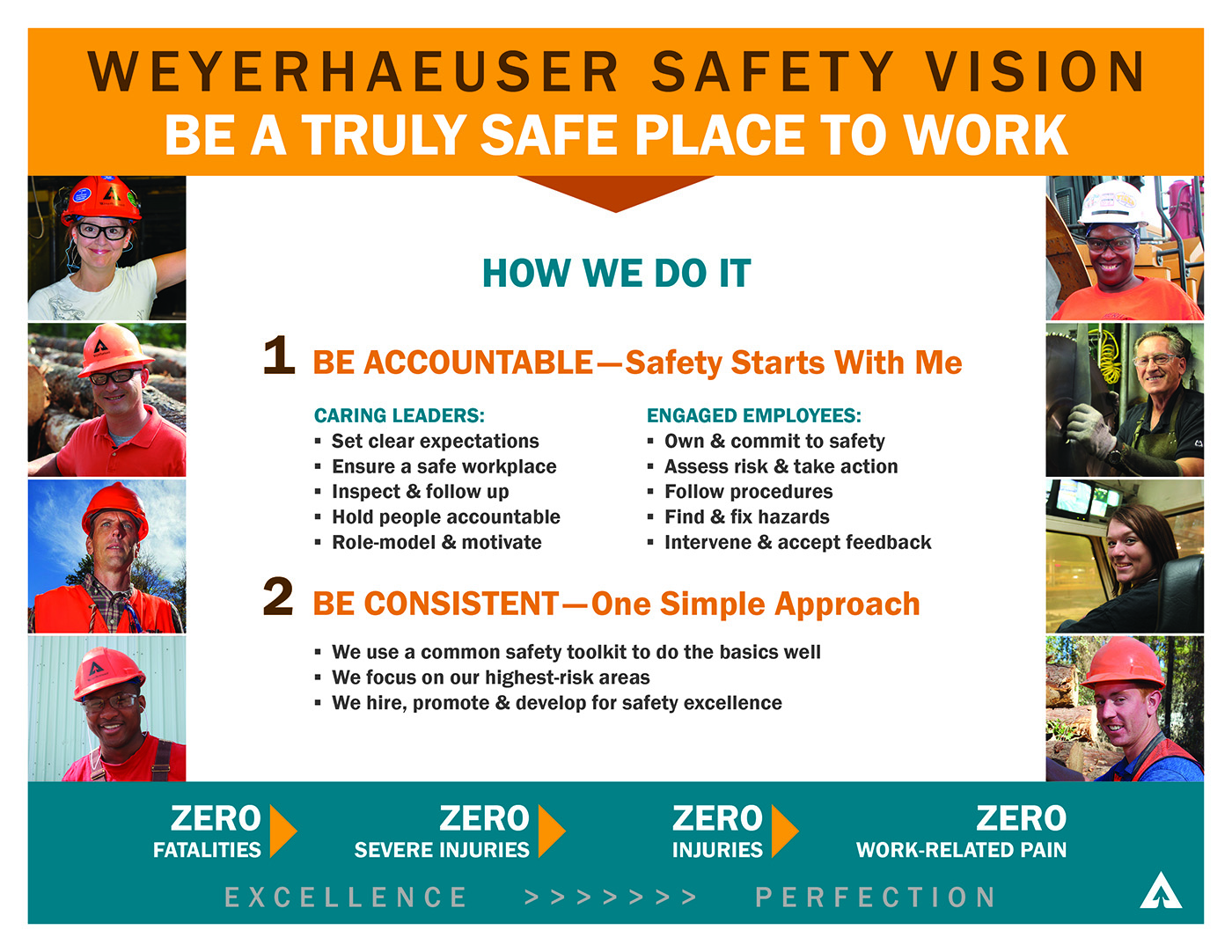 OUR SAFETY VISION
From our senior leadership to our front-line supervisors, visible, consistent commitment to safety makes a significant impact.
Our leaders hold themselves and others accountable for demonstrating caring, safe behaviors and for correcting hazardous situations.
Our employees are fully engaged and share responsibility and accountability for safety.
And everywhere you go, our safety vision hangs on walls as a reminder that injury-free is possible.
HOW WE MANAGE SAFETY
To ensure our safety system is consistent and effective, we equip leaders and employees with a safety toolkit that includes:
Our safety vision
A personal safety pledge document
Our companywide safety metrics
Our template for annual risk-based safety planning
Our Weyerhaeuser-developed risk-assessment tool
Our Health and Safety Policy and safety standards
Our audit process for assessing regulatory compliance and driving continuous improvement of our safety management system
Our standard process for reporting and investigating incidents
Our online incident tracking tool
Online training for all employees
We also understand that to prevent injury, we must learn from our safety incidents and near misses and share that information across the company. We require that all incidents be reported, recorded and investigated according to defined processes based on the type and severity of the incident. Causes must be identified and action taken to prevent recurrence. We collect and analyze information about work-related injury and illness, environmental incidents, near misses, hazard observations, property damage, fire/explosion, vehicle incidents, process loss and product damage. And most important, we regularly communicate what we've learned to all employees.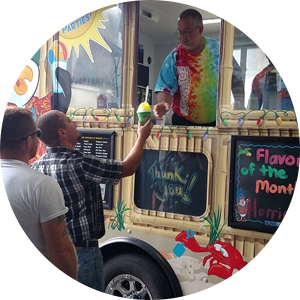 SUMMER MONTHS ARE HIGH-RISK
Summer heat in the South can literally suck the life right out of you. To outsmart the sun, our manufacturing teams use all kinds of creative methods, such as:
Inviting Sno-Cone trucks on site
Bringing in coolers for submerging forearms
Sending daily emails that alert people to the expected temperature and humidity levels
Creating heat-related safety puzzles and brain teasers
Offering fresh fruit in break rooms every week
Stocking up on Gatorade, freeze pops and ice cream
Offering the chance to win prizes at safety events
Delivering heat-stress training
For their outstanding dedication to safety, seven of our Southern sites received a Superior Safety Performance Award from the Southern Forest Products Association.
---
HOW WE MEASURE SAFETY
For many years we were focused on reducing our recordable incident rate, and we are proud to have achieved and maintained industry-leading performance using that metric. But even with a low RIR, some of the injuries we still experience - while very few - are serious and sometimes fatal. For us, this is unacceptable.
To take our safety performance to the next level, we have de-emphasized our focus on tracking all recordable incidents and intensified our focus on eliminating the most serious injuries from our workplace. Every year we set preventive safety targets in several areas, such as hazard identification and correction. And we also track the number of serious and potentially serious injuries we experience so we can better learn from those incidents and keep our highest-risk areas top of mind for all employees.
Of course, our ultimate goal is to operate entirely injury-free. We know this is possible because most of our facilities already operate injury-free on a rolling 12-month basis. In fact, 63 percent of our operations reported no recordable injuries in 2017. However, while we did not experience any employee fatalities in 2017, we did experience nine serious employee injuries and since our goal is zero, we rated ourselves a "below."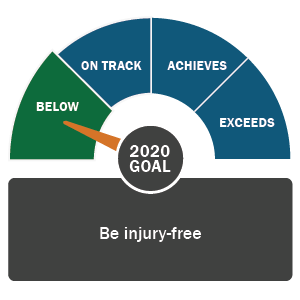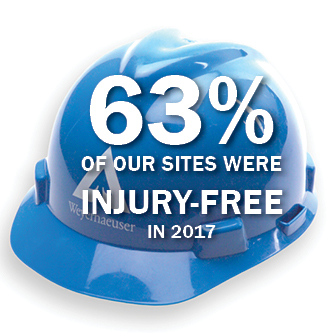 CONTRACTOR SAFETY
The nature of our business requires that we often use contractors to complete various types of work. Sometimes, contractors work alongside employees in our facilities and are supervised by Weyerhaeuser leaders. In these cases, they are expected to follow our safety programs and if an incident occurs, we include it in our company safety performance tracking. But most of the time, our contractors are completing work for us under the direction of their own employer.
We have long required the companies we work with to have effective contractor safety programs in place. But in 2016, after experiencing a number of serious contractor injuries, our Timberlands team decided to reexamine our approach to contractor safety. Guided by our new safety vision with an emphasis on encouraging preventative behaviors and managing high-risk areas, the team proposed a collaborative, values-based approach to contractor safety.
Where we used to focus on auditing for safety compliance, we now focus on behavior, guidance, strategic direction and oversight for contractor safety programs. The new approach includes:
Risk-based safety plans that focus on recognizing and mitigating serious hazards.
Paired leadership visits where our leaders join contractors on job sites to observe their crews in action. Rather than focusing on safety checklists, they talk about shared values, strengths, and opportunities to improve.
In 2017, our contractors experienced 10 serious injuries compared with 19 in 2016 - a nearly 50 percent improvement. Unfortunately, we did experience one contractor fatality in our Oregon Timberlands operations when a hand faller was struck and fatally injured after he slipped downhill and was struck by the tree he had just cut down. An incident investigation was completed and lessons learned were shared with all employees and appropriate contractors.

---
YOU MAY ALSO BE INTERESTED IN: