Climate Change & Biomass
Meeting global challenges
We believe growing forests (which absorb carbon) and making forest products (which store carbon) are part of the solution for addressing the global challenges posed by climate change.
WOOD PRODUCTS ARE GOOD FOR CARBON
Our millions of acres of sustainably managed forests absorb carbon dioxide from the atmosphere as they grow, and much of the carbon stored in the harvested trees continues to stay captured in our products. By replanting our forests after harvesting, our growing trees once again absorb carbon dioxide and the next round of wood products store more carbon yet again.
With a robust and healthy market for wood products, forest managers have an incentive to continue growing trees and providing a sustainable and renewable raw material into the global fiber supply chain. This repeating cycle is counterintuitive to many, but it is a crucial distinction for how working forests — those managed to produce wood products — can reduce the amount of carbon dioxide in the atmosphere.
Wood products also have lower embodied emissions than other building materials. When compared to steel and concrete, wood products require less energy and produce fewer greenhouse gas emissions to make and use. Using wood products instead of non-renewable and energy-intensive building materials is a double-win.
FEEDING THE BIOENERGY MARKET
Woody biomass (the lower-value material such as bark, limbs, chips, residuals and small-diameter trees from thinnings) can be used to produce renewable energy, offering a carbon-neutral energy solution and an alternative to fossil fuels. Unlike fossil fuels that add carbon to the atmosphere from nonrenewable geologic sources, carbon associated with the combustion of biomass is part of a natural cycle that maintains a carbon balance. When biomass is burned, the stored carbon — which would have been emitted through natural decay — is released into the atmosphere and reabsorbed by growing forests.
Higher-quality sawlogs are typically used to make wood products like lumber, as it is not economical to use sawlogs for energy production. Forest biomass offers a low-carbon energy solution compared with fossil fuel alternatives while keeping forests healthy by protecting them from insects, disease and wildfire.
REDUCING OUR GREENHOUSE GAS EMISSIONS
We are also committed to reducing our greenhouse gas emissions and limiting our use of fossil fuels at our manufacturing sites. In 2010, we set a goal to reduce our greenhouse gas emissions 40 percent by 2020 (compared to a 2000 baseline). We've reached our goal: as of the end of 2017, our total (or absolute) greenhouse gas emissions decreased by 44 percent. These reductions were primarily driven by consolidating operations to our higher-efficiency mills and replacing fossil fuels with carbon-neutral biomass fuels. Even with increased production, we expect we will be able to maintain or further decrease our emissions with the continued installation of new capital equipment and projects.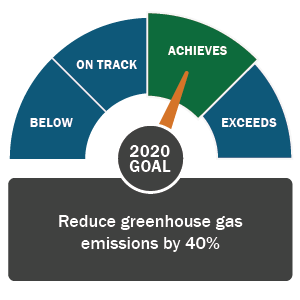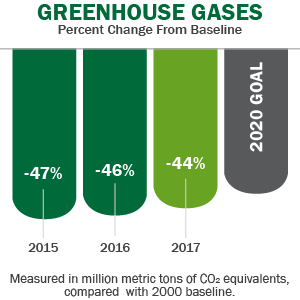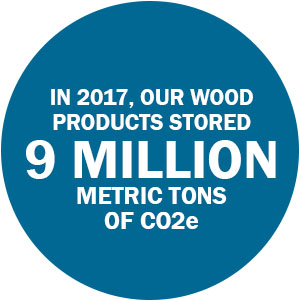 ---
BIOMASS CARBON NEUTRALITY AND CLIMATE POLICY
We believe biomass from sustainably managed forests should be a part of renewable energy strategies since it helps reduce our dependence on fossil fuels and contributes to the reduction of greenhouse gas emissions.
Internationally accepted accounting such as by the United Nations Intergovernmental Panel on Climate Change acknowledges that the combustion of wood biomass for energy from countries with sustainable forest inventories, such as the United States, does not increase atmospheric carbon.
We are active in the policy discussion regarding climate change and renewable energy. We support the USDA's 10 Building Block Strategy for Climate Smart Agriculture and Forestry as a path for the U.S. to reduce GHG emissions from these sectors.
We believe climate change-related public policies that are based on sound science, set clear performance objectives and standards, and leverage free-market economics can achieve beneficial change with respect to energy security and greenhouse gas emissions.
We support policies that:
Recognize managed, productive forests and wood products are part of the solution.
Recognize carbon dioxide emissions from biomass as carbon neutral.
Ensure energy-intensive manufacturers are not at a competitive disadvantage in international markets.
Incentivize and recognize combined heat and power cogeneration facilities for their inherent energy efficiency.
Establish a robust domestic and international market-based program and allows credit for the sequestration and storage of carbon through reforestation, afforestation, avoided deforestation, harvested wood products and forest management projects.
Provide credit for early actions, such as those taken over the past decade, that reduce GHG emissions or increase sequestration of atmospheric carbon dioxide.
OUR RISKS AND OPPORTUNITIES
Climate change-related risks we currently assess include:
Public policy choices concerning biomass.
Proposals for carbon legislation at the federal, regional and state levels in the United States and Canada, as well as international climate change agreements.
The cost of energy and the definitions of renewable energy forms, such as biomass.
Physical risks of climate change, including changes in temperature and precipitation and the variability of disturbance events such as fire, flood and hurricanes, which could affect the forests we own and manage.
Opportunities we may pursue include:
Developing our capability to assess the opportunities and risks of participating in carbon markets in the future.
Additional market opportunities for forest-based products, both for existing product lines and for new innovations using renewable forest products. We believe forests and related biomass can be a prime source of raw material for a variety of products that will benefit an economy striving to use renewable and low-carbon products.
We provide more details regarding these risks and opportunities in our Annual Report as well as in our response to the CDP Climate Change questionnaire.