Our Approach
Sustainability is how we do business
A CORE VALUE
Our company vision is supported by five core values: safety, integrity, citizenship, inclusion and sustainability. Our values are not just words on a page; we live them every day. As a company with more than 118 years under our belt, we've been at this a long time. Sustainability, quite simply, is the way we do business.
AN EVOLVING STORY
Our company began replanting forests in the 1930s, long before it was common practice or required under forest practice rules. Over the last decade, we've planted more than 1 billion trees on our timberlands. We practice sustainable forestry, which at its core means we balance our harvesting with the growth of our forests. We harvest an average of only 2 percent of our timberlands each year. And, we replant and reforest all our harvest sites.
But today, we know sustainability means more than solely planting trees.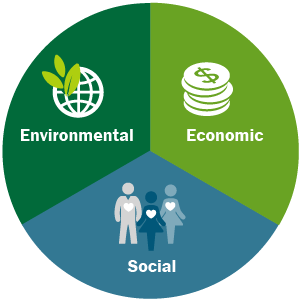 HOW WE MANAGE SUSTAINABILITY
For us, sustainability means we think about what we need to do now to succeed in the future. We want our company to be around for another 100 years or more and we want our forests to be productive and healthy forever.
We do this by simultaneously managing our environmental, economic and social impacts while ensuring we have a good governance structure in place.
This translates into four main buckets, which tie seamlessly back to our company vision:
We grow and care for our people
We are good environmental stewards
We are good citizens
We create value for our shareholders
OVERSIGHT
Our board of directors' Governance and Corporate Responsibility Committee provides oversight and direction on the company's sustainability strategy. The committee annually reviews our sustainability performance and progress toward goals, as well as key opportunities and trends.
Our executive and senior leadership set our strategy and keep us focused on the most critical opportunities. This strategy is supported by cross-functional staff and business leaders, who identify opportunities, risks and external trends and provide recommendations to ensure optimum performance. Our sustainability team provides structure and guidance for implementing our strategy, ensuring internal and external engagement and reporting on our progress.

WHAT'S IMPORTANT?
To determine what's important to include in our sustainability strategy and reporting, we consider the relevance of the topics to our company (e.g., where we operate, what we make, who we hire) and how these topics affect our ability to create value (e.g., practice sustainable forest management, attract investors and employees, make and sell our products). We solicit feedback from stakeholders throughout the year and review our assessment annually to ensure the identified topics are still relevant and significant.

We are an integrated forest products company, primarily selling directly to other companies, and we do not outsource the making of our products or the management of our forests. This means the majority of our opportunities and topics are significant only within the boundaries of our company. When we are reliant on entities outside of our own boundaries, we discuss our relationship with these suppliers in the relevant portions of the sustainability section of this website.
We share our sustainability performance exclusively online. This section of our website is updated annually and serves as our company sustainability report.
YOU MAY ALSO BE INTERESTED IN: